Solar control window film offers practical and low-cost upgrade to existing glazing systems
LLumar® Window Film, a brand of Eastman Chemical Company, will be hosting a must-see presentation on Day 2 of this year's Energy and Environment Expo, being held 17 – 19 June 2014 at ExCel, London. Presented by Aaron Reeves AIEMA MEnvSci, Specification Services Manager, Advanced materials - Performance Films, Eastman Chemical Company, the keynote will provide attendees with guidance on how energy control window film can help reduce energy consumption in non-domestic buildings without the need for costly glass replacement. Topics will include:

• The impact of windows/glazing on a building's energy consumption and the comfort of its occupants
• Key window film technologies, from invisible solar control, to 'all season' energy savings
• All underscored by third-party verification of the benefits of window film technology alongside project examples
"The UK economy is steadily improving and there is an air of optimism across the nation's construction industry," says Reeves. "However, the London property price surge hasn't rippled out across the whole country and although new-build investment is on the rise, refurbishment margins remain tight. With the energy performance of buildings under increasing scrutiny from regulators, a growing number of solutions consultants and large scale facilities mangers are recognising window films as a cost-efficient retrofit solution for existing glazing systems."
Made from tough polyester laminates and bonded coatings, LLumar energy saving window films can be used on glazing systems to provide state-of-the-art glass performance. Crucially, the LLumar line of films offer a retrofit solutions to upgrade glass and help reduce solar energy gain by up to 85 per cent, block 99 per cent of UV rays and radically improve insulation. All at a much lower cost than exchanging whole windows.
"LLumar window films offer sophisticated and sustainable solutions for complex situations and have proven their performance in high profile projects all over the world," continues Reeves. "Our specialists work alongside customers projecting the cost savings, return on investment and mapping the reduction of CO2 emissions. Using similar cost calculations to the glazing industry, we can demonstrate how significant savings and rapid payback are achieved in as little as three years. Put simply, LLumar is a smart investment for any business serious about energy efficiency."
Visitors to LLumar's highly interactive stand (number Q1750) will experience a thermal imaging demonstration highlighting the ability of LLumar's 'EnerLogic' film to regulate heat. They will also be able to see first-hand how LLumar's 'Helios' range of films can help protect against solar heat gain.
Aaron Reeves' keynote is entitled "LLumar. Performance film for glass. Low cost building envelope enhancement significantly reduced C02 emissions" and takes place at 12.35 in the Energy and Environment Expo's keynote theatre. With a track record in commercial building retrofit and energy efficiency projects, Aaron plays a key role in supporting consultants and facilities management professionals through the specification process. He combines environmental and energy knowledge with advanced glazing, window film and building simulation expertise.
About LLumar
LLumar® Window Film, a brand of Eastman Chemical Company, draws on over 50 years' experience in film production and technology to maximise efficiency and produce precise film solutions to meet our customers' exacting requirements. Our expertise based on decades of experience enables us to play a leading role globally in the manufacture of professional window films for the automotive and construction sectors.
LLumar window film can enhance the performance of any glazing system, save energy, improve comfort, add safety and update aesthetics. Significant savings and rapid payback in as little as 3 years make this a smart investment for any building owner. To find out more about LLumar® Window Film, please visit: www.LLumar.com
About Eastman Chemical Company
Eastman is a global specialty chemical company that produces a broad range of products found in items people use every day. With a portfolio of specialty businesses, Eastman works with customers to deliver innovative products and solutions while maintaining a commitment to safety and sustainability. Its market-driven approaches take advantage of world-class technology platforms and leading positions in attractive end-markets such as transportation, building and construction and consumables. Eastman focuses on creating consistent, superior value for all stakeholders. As a globally diverse company, Eastman serves customers in approximately 100 countries and had 2013 revenues of approximately $9.4 billion. The company is headquartered in Kingsport, Tennessee, USA and employs approximately 14,000 people around the world. For more information, visit: www.eastman.com.
Featured Product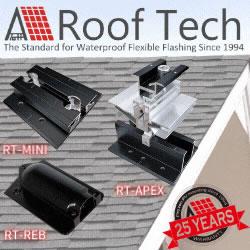 Now Roof Tech brings you the most innovative, watertight mounting systems ever developed for solar photovoltaic systems. Designed and manufactured exclusively for us by Japan's longtime leader in roofing technologies, Roof Tech products are 100% code-compliant and offer fast, simple installation and huge savings on shipping costs due to their compact, rail-less design. Learn more about our full line of versatile PV mounting solutions now available for residential installations. The next generation in rooftop solar mounting solutions."