SEIA supports the legislation as it immediately relieves a short-term bottleneck on solar projects in Massachusetts by removing the caps on net metering
BOSTON, MA – Saying it reflects consensus from major clean energy, utility and environmental stakeholders while solidifying the Commonwealth's commitment to 1,600 megawatts (MW) of solar energy by 2020, the Solar Energy Industries Association (SEIA) and the New England Clean Energy Council (NECEC) today announced their support for proposed legislation for a new net metering and renewable energy incentive program that will result in hundreds of millions of dollars in cost savings for ratepayers.

The proposed legislation is a direct result of an intensive and inclusive process conducted by the Massachusetts Department of Energy Resources (DOER), and will benefit Massachusetts consumers by improving access to net metering that will enable public and private distributed generation (DG) projects to continue. As part of the process, the DOER convened a working group of renewable energy industry representatives, utility executives and other key stakeholders to work with the legislature to craft a bill that would eliminate the solar net metering cap and frame a long-term solar financing and development program for the State.
An Act Relative to Net Metering and Solar Power (H3901) would make changes to the net metering rules governing how distributed generation (DG) systems are compensated for the electricity they produce and make changes to the Solar Renewable Energy Credit (SREC) program, which encourages Bay State residents and businesses to build DG systems. Most importantly, developers will have an extended transition period until late 2016 to complete qualified projects under the current program. After that time, developers will have the option of participating in the new program moving forward.
"SEIA supports the legislation as it immediately relieves a short-term bottleneck on solar projects in Massachusetts by removing the caps on net metering," said Carrie Cullen Hitt, SEIA's Senior Vice President of State Affairs. "This proposed bill reflects the hard work and engagement of a wide range of stakeholders. I commend the DOER and legislature for convening a process that sets a national precedent and will result in good public policy, improving the efficiency of the state's solar program for all ratepayers. This legislation will reduce risk and create more certainty for solar developers, including the many local companies at work every day here in the Commonwealth."
"NECEC endorses this legislation, which supports the emerging and growing market for renewable energy technologies of all sizes in Massachusetts by enabling customers to continue to have access to net metering for their systems," said NECEC President Peter Rothstein. "This bill also sets the Commonwealth on the path to achieving Governor Patrick's goal of 1,600 MW of solar energy by 2020, which will support the continued momentum for the Commonwealth's booming solar industry while ensuring that new solar projects are increasingly cost-effective for ratepayers."
Solar development has seen tremendous growth in Massachusetts in recent years due in large part to favorable state policies such as net metering and the SREC program, which have been instrumental in attracting new developers and investors that have brought projects, jobs and customer savings to the state.
According to SEIA's most recent Solar Market Insight Report, Massachusetts has more than 464 MW of solar installed, enough to power more than 75,200 homes and placing the state 6th in the country when it comes to solar capacity. As of the end of 2013, there were 47 solar panels in Massachusetts for every seat at Fenway Park.
The Commonwealth currently has more than 290 solar companies at work throughout the value chain, employing 8,400 people across the state. In 2013, $789 million were invested in Massachusetts to install solar on homes and businesses, a 50 percent increase over the previous year, and that number is expected to grow again this year.
Featured Product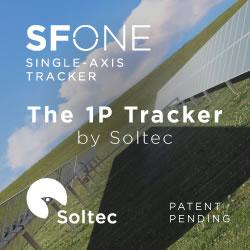 SFOne is the 1P single-axis tracker by Soltec. This tracker combines the mechanical simplicity with the extraordinary expertise of Soltec for more than 18 years. Specially designed for larger 72 an 78 cell modules, this tracker is self-powered thanks to its dedicated module, which results into a lower cost-operational power supply. The SFOne has a 5% less piles than standard competitor, what reduces a 75% the labor time.