500kW of KYOCERA high-efficiency solar panels installed by Autonomous Energy now provide renewable energy to Toyota's Melbourne plant
June 17, 2014 -- Autonomous Energy has announced the completion of a 500kW solar power system at Toyota Motor Corporation Australia's manufacturing plant in Melbourne. 2,000 Kyocera solar panels now cover the roof of Toyota Australia's Engine Factory at its Altona North plant. It is the largest roof-mounted solar photovoltaic (PV) system in Victoria and the third largest nationally.

"One of the exciting things about this project was the number of firsts for solar in Australia," Says Mario Como, Production Engineer at Toyota Australia. "For example we are the first site to directly connect a solar array to an industrial site's internal high-voltage network via a single 500kW Central Inverter and transformer."
The 500kW Central Inverter and transformer were manufactured by leading power engineering company ABB, this being the largest ABB inverter installed in Australia to date.
"From day one the priorities for this project have been safety and quality," said Mark Gadd, Managing Director at Autonomous Energy. "Working closely with Toyota's engineers we have set a new standard in the Australian solar industry for safety management and installation quality."
Autonomous Energy's industry-leading solar engineering, installation and project management teams were responsible for all aspects of this complex and innovative project. The premium quality Kyocera solar modules in this system produce enough renewable energy to power the equivalent of 200 households.
"Kyocera has been manufacturing solar panels for nearly 40 years now, and this is the largest installation of Kyocera solar panels in Australia to date," said George Phani, National Manager at Kyocera Solar. "This installation is an excellent example to other businesses that large-scale solar installations should be implemented not only to help the environment, but also to benefit the bottom line."
Toyota officially launched its solar power system on June 5, 2014, coinciding with World Environment Day.
This is an important project for Toyota, demonstrating the company's commitment to environmental sustainability, clean manufacturing and innovation. This project was made possible with Government co-investment from the Clean Technology Investment Fund.
About Autonomous Energy
Autonomous Energy is an award-winning Australian sustainable energy engineering company that offers a wide range of sustainable energy systems and engineering solutions. Established in 2003, Autonomous Energy is a true leader in the Australian sustainable energy industry with an unparalleled track record in implementing cost-effective sustainable energy systems to the highest levels of quality, safety and performance. Autonomous Energy is headquartered in Sydney, Australia with offices in Victoria and Queensland.
About KYOCERA
Kyocera is one of the world's leading producers and suppliers of solar photovoltaic modules and systems. With a 38-year history of innovation in solar technology, the company is recognized as an industry pioneer and has set repeated world records in multicrystalline silicon cell efficiency. Kyocera serves thousands of residential and industrial customers in both developed and developing regions, with more than 4 gigawatts of solar collection equipment installed since 1975.
Kyocera Solar Pty Ltd.is headquartered in Sydney, Australia with regional sales offices in Queensland and West Australia.
Kyocera Solar, Inc. is headquartered in Scottsdale, Arizona with regional sales affiliates in the Americas and Australia. Kyocera Solar, Inc. is a parent company of Kyocera Solar Pty Ltd.
Kyocera Corporation (NYSE:KYO) (TOKYO:6971), the parent and global headquarters of the Kyocera Group, was founded in 1959 as a producer of fine ceramics (also known as "advanced ceramics"). By combining these engineered materials with metals and integrating them with other technologies, Kyocera has become a leading supplier of solar power generating systems, mobile phones, printers, copiers, electronic components, semiconductor packages, cutting tools and industrial components. During the fiscal year ended March 31, 2014, the company's consolidated net sales totaled 1.45 trillion yen (approx. $14.1 billion USD).
Featured Product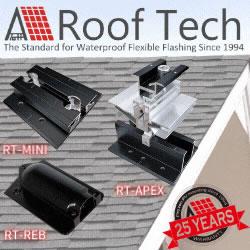 Now Roof Tech brings you the most innovative, watertight mounting systems ever developed for solar photovoltaic systems. Designed and manufactured exclusively for us by Japan's longtime leader in roofing technologies, Roof Tech products are 100% code-compliant and offer fast, simple installation and huge savings on shipping costs due to their compact, rail-less design. Learn more about our full line of versatile PV mounting solutions now available for residential installations. The next generation in rooftop solar mounting solutions."