On track to achieve carbon neutrality by 2020
(WASHINGTON, D.C.) June 24, 2014 -- In a major milestone in its commitment to achieve carbon neutrality, American University has entered into an agreement to source half its electricity from renewable power.

AU announced a 20-year solar energy purchase with partners George Washington University and George Washington University Hospital. The total project will supply the partners with 123 million kilowatt hours of emissions-free electricity per year, drawn from 243,000 solar panels at three sites in North Carolina. Comprised of 52 megawatts of solar photovoltaic power, it is the largest non-utility solar PV power purchase agreement in the United States and the largest PV project east of the Mississippi River.
Commenting on the project, AU President Neil Kerwin said: "American University is firmly on its way to achieving carbon neutrality by 2020. We are home to the largest combined solar array in the District of Columbia, are resolved to growing green power through our purchase of renewable energy certificates, and are now a partner to the largest non-utility solar energy purchase in the United States."
By the end of 2015, solar power generated at the three sites will move through a North Carolina electrical grid into the D.C. regional grid.
"Solar power is a reliable renewable energy resource for AU to tap into," said Doug Kudravetz, interim chief financial officer. "This project realizes environmental benefits and is cost competitive with conventional energy sources, which are projected to increase over the next 20 years. The agreement provides fixed pricing for solar energy at a lower total price than current power solutions."
Addressing climate change has been a priority since Kerwin signed the American College and University Presidents' Climate Commitment in 2008, and two years later set an ambitious goal to achieve carbon neutrality by 2020.
The AU Climate Plan has four strategies to achieve neutrality: reduce consumption; produce renewable energy in the form of wind, solar, and waste; buy green power; and buy or develop offsets for travel and other unavoidable emissions.
Green Power
Before the solar power purchase, AU sought options for tapping clean sources of electricity and moving away from brown power, the burning of fossil fuels such as coal and gas.
For the past two years, AU has purchased green power in the form of renewable energy certificates (RECs). The certificates ensure that green power is produced from wind and solar sources in an amount equivalent to the electricity AU consumes. In doing so, AU is supporting the growth of renewable energy sources in the U.S.
Under the new solar power purchase agreement, AU will receive direct, grid-delivered solar power for half its electricity. It will continue to purchase RECs for the remainder, thereby ensuring that 100 percent of its power will be carbon neutral.
"Directly sourcing solar power for half of the campus electricity needs eliminates 15,000 metric tons of carbon dioxide from the atmosphere each year, which is equivalent to taking 3,000 cars off the road annually. That represents a significant reduction in our carbon footprint," said Chris O'Brien, director of sustainability.
Energy Conservation
College campuses are often described as cities unto themselves. As its own urban environment of 15,000 students, faculty and staff, AU's campus energy needs are on par with a small town. Reducing energy consumption at the source of emissions is central to meeting the 2020 goal. A number of methods are underway to reduce energy use on campus, such as lighting retrofits, preventive maintenance and classroom temperature monitoring.
In addition to the electricity sourced from the North Carolina solar panels, AU meets its electricity needs through solar panels right on campus, which produce onsite renewables in the form of solar thermal (hot water systems) and solar electric (photovoltaic panels). The panels on multiple rooftops at AU also provide a learning lab for students, educators and the larger community for how onsite renewables can be done.
Some of the solar panels are also in combination with AU's green roofs, or garden rooftops, another opportunity where professors and students conduct research to evaluate environmental benefits.
Green Buildings, Grounds and Transportation
AU uses the U.S. Green Building Council's LEED certification system to earn ratings for campus buildings. The School of International Service is LEED Gold certified, and 30 other campus buildings are tracked for certification. AU tracks and monitors building energy consumption using ENERGY STAR portfolio manager to benchmark performance and set goals for energy efficiency in buildings across campus.
To cut down on transportation emissions, AU offers commuter bike benefits, carpooling and car sharing methods, and two electric vehicle charging stations. AU's shuttle buses and other diesel-powered equipment are fueled using a B20 biodiesel blend (20 percent biofuel, 80 percent diesel).
Efforts to conserve water are seen in more than 100 campus water fountains retrofitted with bottle filler spigots, trayless dining and water-efficient irrigation. The SIS building collects approximately 66,000 gallons of rain water for use in fire suppression and restrooms.
Research, Education and Action
Courses that incorporate or concentrate on sustainability are offered at AU, and a recent survey identified 1,079 as focused on or related to sustainability.
For innovation and research in sustainability, opportunities abound. Faculty members research sustainability on and off campus, and students lead efforts through programs, clubs and an organic garden, and participate in research, including in AU's pilot carbon-offset project.
Other resources include a fund to support faculty efforts to green their classrooms and curriculum, and a Green Office program for staff and faculty to meet the 2020 goal.
Everyone on campus can participate in AU's zero waste and composting program, which strives for zero waste sent to landfill and incineration by 2020.
Featured Product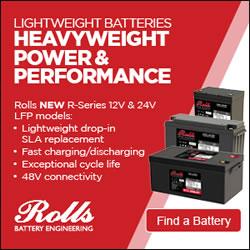 Designed for true drop-in replacement, Rolls new R-Series 12V & 24V LFP lithium models offer a maintenance-free lightweight flooded and SLA alternative in four popular BCI case sizes with fast charge/discharge capability. Rolls custom built-in BMS provides all necessary operating protections for safe operation and seamless integration for deep cycle replacement in 12V, 24V or 48V systems.