This easier installation also allows for savings in labor and materials costs and increases safety during the installation of the solar system.
NORCROSS, Ga.--Siemens today unveiled two new solar microinverters rated for 215 and 250 watt AC output with Integrated Ground technology (IG). The M250 IG microinverter extends the variety of photovoltaic (PV) modules with which the microinverter can now be used to. Modules up to 310W can be used while producing at 96.5 percent CEC efficiency. The IG feature enhances the installation experience by reducing the install time by eliminating the need to install a ground electrode conductor (GEC). This easier installation also allows for savings in labor and materials costs and increases safety during the installation of the solar system.

Benefits include:
*Maximized power harvested by each PV module without a single point of failure.
*Reduced cost of installation and materials.
*Reduced complexity with grounding microinverters.
*Continuous monitoring through the Enlighten® software. Enlighten presents current and historical system performance trends, and it informs you of PV system status.
Siemens microinverters are installed beneath each solar module and convert DC power to AC power. They send AC power to the installation's electrical panel (site load center) and transmits performance data to the envoy. Each microinverter is individually connected to one PV module in the array. This unique configuration means that an individual maximum peak power point tracker (MPPT) controls each PV module. This ensures that the maximum power available from each PV module is exported to the utility grid regardless of the performance of the other PV modules in the array. That is, although individual PV modules in the array may be affected by shading, soiling, orientation or PV module mismatch, the Siemens microinverter ensures top performance for its associated PV module. The result is maximum energy production from your PV system with no single point of failure.
For more information, please visit www.usa.siemens.com/microinverters.
The Siemens Infrastructure & Cities Sector, with approximately 90,000 employees, focuses on sustainable and intelligent infrastructure technologies. Its offering includes products, systems and solutions for intelligent traffic management, rail-bound transportation, smart grids, power distribution, energy efficient buildings, and safety and security. The Sector comprises the divisions Building Technologies, Low and Medium Voltage, Mobility and Logistics, Rail Systems and Smart Grid. For more information visit: www.usa.siemens.com/infrastructure-cities.
The Siemens Low and Medium Voltage Division serves the entire product, system, and solutions business for reliable power distribution and supply at the low- and medium-voltage levels. The Division's portfolio includes switchgear and busbar trunking systems, power supply solutions, distribution boards, protection, switching, measuring and monitoring devices as well as energy storage systems for the integration of renewable energy into the grid. The systems are supplemented by communications-enabled software tools that can link power distribution systems to building or industry automation systems. Low and Medium Voltage ensures the efficient supply of power for power grids, infrastructure, buildings, and industry. Additional information is available at: www.usa.siemens.com/powerdistribution.
Featured Product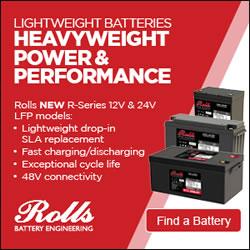 Designed for true drop-in replacement, Rolls new R-Series 12V & 24V LFP lithium models offer a maintenance-free lightweight flooded and SLA alternative in four popular BCI case sizes with fast charge/discharge capability. Rolls custom built-in BMS provides all necessary operating protections for safe operation and seamless integration for deep cycle replacement in 12V, 24V or 48V systems.