Four out of five targeted U.S. companies and a union were challenging Chinese trade practices
HILLSBORO, Ore., June 26, 2014 – According to a recent U.S. criminal indictment against five members of a Chinese military unit, four out of six U.S. organizations that were targeted by People's Liberation Army cyber-espionage attacks had filed trade cases against state-sponsored industries of China. The U.S. victims that allegedly were targeted in computer-based spying included SolarWorld Industries America Inc., U.S. Steel, the United Steelworkers union and Allegheny Technology Inc., among others.

A month after the indictment was unsealed, SolarWorld today said it is heartened that the criminal indictment has raised awareness about China's systematic, state-planned retaliation against targeted U.S. industries and is prompting new proposals to counter China's illegal trade practices and alleged cyber-hacking. For example, U.S. Sen. Charles E. Schumer, D-New York, called on U.S. Trade Representative Michael Froman to file a case against China with the World Trade Organization for violation of international agreements protecting trade secrets. The importance of finding remedies to deal with cyber-espionage against companies involved in trade cases case was also discussed yesterday at a Senate Finance Committee hearing on trade enforcement by Chairman Ron Wyden, D-Oregon, and several witnesses.
In the instance of SolarWorld, the indictment alleges that corporate secrets allegedly stolen in mid-2012 included proprietary information in documents which the company was preparing to submit in ongoing trade cases against the state-controlled Chinese solar industry. In such cases, companies submit proprietary information to the U.S. government that only attorneys for the parties are allowed to review. The companies and the Chinese government are prohibited from reviewing the confidential business information of the opposing parties. Violations of this protective order carry heavy civil penalties for anyone involved.
In allegedly capturing trade-case documents – along with financial and technological secrets – from SolarWorld, the company said, the Chinese government secured a dual unfair advantage in attempting to thwart the company. The cyber-espionage allegations, if true, confirm China's pattern of retaliating against companies and industries that bring legal cases to challenge unfair Chinese trading practices such as dumping and subsidies.
Despite the alleged cyber-hacking by China, Commerce and the bipartisan U.S. International Trade Commission affirmed SolarWorld's factual assertions and imposed duties averaging 31 percent to offset the improper effects of the Chinese industry's trade practices in late 2012. Chinese producers, however, seized a loophole in the remedy – by using a third country to carry out one of four stages of solar-panel production – to evade import duties, according to SolarWorld.
As a result, the company brought a second, current set of cases on behalf of the domestic industry, which the company said has unfairly suffered numerous factory shutdowns and thousands of manufacturing job losses as a result of China's improper trade practices. Once again, these cases allege that China's state-sponsored trade drive is unfairly eliminating competition and seizing U.S. market share by using improper, export-intensive industrial subsidies and artificially low prices below production costs. The U.S. National Renewable Energy Laboratory has concluded that Chinese producers do not have a production cost advantage on solar products.
On June 10, U.S. technology security group Crowdstrike issued a report identifying a second source of cyber-espionage against U.S. corporations, an entity called Putter Panda that Crowdstrike said also has links to the Chinese military. The report said this unit targets corporations doing business in the satellite, aerospace and communications industries.
"We know we are one of many U.S. industries using the trade laws to challenge China's illegal trade practices," said Mukesh Dulani, U.S. president of SolarWorld. "Now we take hope that this criminal indictment is bringing the problem, particularly this brazen combination of spying and unfair trade, to the attention of the U.S. public and government as a whole. American entrepreneurs, scientists and factory workers pioneered the solar industry."
In its current cases, SolarWorld, the largest U.S. solar producer for nearly 40 years, is representing the U.S. solar manufacturing industry with support from the Coalition for American Solar Manufacturing (CASM). CASM represents nearly 250 employers, most of them solar-installation firms, of nearly 21,000 Americans. CASM promotes the benefits of domestic manufacturing, sustainable production and fair trade.
On June 3, Commerce issued anti-subsidy duties averaging 27 percent on Chinese solar imports. Next in the cases, Commerce will announce its preliminary determination on anti-dumping duties on July 24.
SolarWorld REAL VALUE: SolarWorld manufactures and sells solar power solutions and in doing so contributes to a cleaner energy supply worldwide. As the largest solar producer in the United States and Europe, SolarWorld employs about 3,200 people and carries out production in Hillsboro, Ore., and Freiberg and Arnstadt, Germany. From the raw material silicon to solar wafers, cells and panels, SolarWorld manages all stages of production ‒ including its own research and development. The company maintains high social standards at all locations across the globe and is committed to resource- and energy-efficient production. Headquartered in Bonn, Germany, SolarWorld was founded in 1998 and has been publicly traded on the stock market since 1999. For more information, visit www.solarworld-usa.com.
Featured Product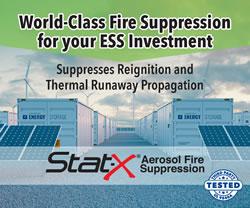 Stat-X® Condensed Aerosol Fire Suppression is a solution for energy storage systems (ESS) and battery energy storage systems (BESS) applications. This includes in-building, containerized, and in-cabinet applications. The Stat-X product was tested for efficacy in putting out Li-ion battery fires. It was found that the Stat-X agent successfully extinguished single and double cell battery fires. This testing was conducted in parallel with a large battery fire testing program. DNV GL Energy conducted the testing and validated effectiveness of the Stat-X aerosol agent on cell level Li-ion battery fires.