SB 1139 to go before Assembly Appropriations Committee in August
For the second time in a week, a State Assembly committee has held hearings and passed Imperial Irrigation District-endorsed Senate Bill 1139 – proposed new legislation that would diversify California's energy portfolio by requiring energy retail sellers to procure 500 megawatts of electricity from baseload geothermal power plants in the next 10 years.

The Assembly's Natural Resources Committee approved the proposed legislation today, following a 6-2 vote. Earlier in the week the bill was approved by the Assembly's Utilities and Commerce Committee, 8-5; the Senate approved the bill in May.
Authored by Senator Ben Hueso (D-San Diego) and Assemblyman V. Manuel Pérez (D-Coachella), the bill will now be scheduled to be heard by the Assembly Appropriations Committee in August.
"We are very pleased to see this proposed legislation wend its way through the Legislature with success at this time," said Jim Hanks, IID Board President. "It really speaks to the true merits of the bill."
IID views the proposed legislation as critical to advancing the Salton Sea Restoration and Renewable Energy Initiative, a joint collaborative with Imperial County. The initiative calls for the development of new geothermal energy projects at the sea as a platform – and funding mechanism – for the sea's ultimate restoration. The Known Geothermal Resource Area in and around the Salton Sea, the majority of which is located on IID-owned lands, is estimated to contain up to 2,000 megawatts of untapped geothermal energy.
The initiative can help assure the future of the Salton Sea, protect public health, conserve vital species habitat and create stability for meeting California's water supply and energy needs.
SB 1139 has the potential to generate up to $38 million per year in local revenue, hundreds of high-paying jobs and investments toward meaningful economic development, and creates the kind of smart development needed in California to produce jobs, protect against fuel price increases and reduce greenhouse gas and fossil fuel emissions, said Senator Hueso.
Californians are learning the benefits of geothermal – its ability to provide baseload power with nominal greenhouse gas emissions, making it a great choice for filling the gap created by the closure of the San Onofre Generating Station, while enabling the state to stay on track with its emissions reductions goals, said Assemblyman Pérez. At the local level, the development of geothermal resources is expected to create jobs for the Coachella and Imperial Valley communities as well as generate potential financing for Salton Sea restoration.
Featured Product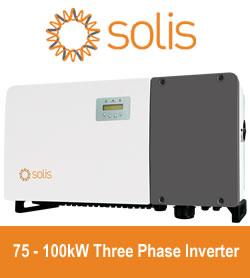 Solis75kW - 100kW series high-power string inverters are widely used in industrial and commercial rooftops. Solis's new three-phase string inverter is the first choice for industrial and commercial photovoltaics. 75-100kW three phase series string inverter have Maximum 28 strings input, support "Y" type connection in DC side. Maximum string input current 13A, support bifacial modules access.Supports anti-PID function to improve system efficiency.