Company files requests asking U.S. Commerce Department to probe effects of alleged Chinese military cyber-hacking of SolarWorld amid first, current cases
HILLSBORO, Ore., July 1, 2014 – In filings today with the U.S. Department of Commerce, SolarWorld asks for an investigation into the trade implications of the Chinese military's alleged cyber-spying on SolarWorld. The alleged spying occurred during the time that SolarWorld was litigating its original trade cases against the Chinese government and its state-controlled solar producers. The company is calling on Commerce to question the Chinese government about whether and how its solar producers benefitted from the computer espionage. It is also asking that Commerce review current cases and contemplate sanctions against the Chinese government.

In late May, the U.S. Department of Justice (DOJ) unsealed an indictment against five members of the People's Liberation Army of China for alleged spying attacks on five U.S. companies and a labor union, four of which had mounted trade cases against China. The indictment accused Chinese military personnel of capturing thousands of SolarWorld emails containing secret financial, production, research-and-development and trade-litigation details from May to September 2012. The captured documents, the DOJ indictment says, included trade-case submissions that contained propriety corporate data bearing special confidentiality protections.
"Collectively," the indictment notes, "the data stolen from SolarWorld would have enabled a Chinese competitor to target SolarWorld's business operations aggressively from a variety of angles."
According to a 10-page Commerce submission filed today by SolarWorld, which is representing the U.S. solar manufacturing industry in a second set of cases to counter China's alleged anti-competitive trade practices, "It is imperative … that the Department further investigate the effects of the espionage on this proceeding and determine the extent of harm to SolarWorld's competitive position as a result of this (government)-backed theft of proprietary and privileged information by issuing additional questionnaires to the (Chinese government) …."
As a result of SolarWorld's first trade cases, the U.S. government imposed duties averaging 31 percent on Chinese solar imports beginning in December 2012. Following this decision, Chinese solar producers circumvented those duties through a loophole in the trade-remedy order, enabling them to avoid tariffs by outsourcing the third of four principle steps of production, particularly to Taiwan, according to SolarWorld. A Chinese media outlet said in an article that Chinese producers use Taiwan to circumvent the U.S. trade orders for more than 70 percent of Chinese solar exports to the U.S. market.
To close the loophole, SolarWorld submitted a second, current set of anti-subsidy and anti-dumping cases on Dec. 31. In a preliminary anti-dumping determination on June 4, Commerce imposed preliminary duties averaging 27 percent. The agency is expected to announce its preliminary determination on anti-dumping duties on July 24.
With its trade cases, SolarWorld, the largest U.S. solar manufacturer for nearly 40 years, is representing the domestic solar production industry, which invented and pioneered manufacturing of the industry's mainstay crystalline silicon technology. In so doing, the company has support from the Coalition of American Solar Manufacturing (CASM), a coalition of nearly 250 employers of nearly 21,000 Americans, mostly working in the solar-installation business.
SolarWorld REAL VALUE: SolarWorld manufactures and sells solar power solutions and in doing so contributes to a cleaner energy supply worldwide. As the largest solar producer in the United States and Europe, SolarWorld employs about 3,200 people and carries out production in Hillsboro, Ore., and Freiberg and Arnstadt, Germany. From the raw material silicon to solar wafers, cells and panels, SolarWorld manages all stages of production ‒ including its own research and development. The company maintains high social standards at all locations across the globe and is committed to resource- and energy-efficient production. Headquartered in Bonn, Germany, SolarWorld was founded in 1998 and has been publicly traded on the stock market since 1999. For more information, visit www.solarworld-usa.com.
Featured Product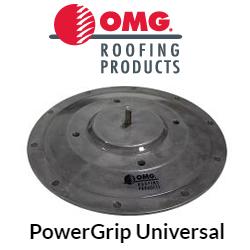 Eliminate Solar Rack Ballast and Reduce Rooftop Material Handling. PowerGrip™ Universal (PGU) is a commercial roof mount system designed to secure solar racks and other equipment to any type of commercial roofing system. PGU provides a secure connection directly to the roof deck or structural members and is designed to reduce or eliminate ballast in solar racking systems, so there's less weight on the roof and less material handling. Made of heavy-duty cast aluminum, PGU units include a base ring which is secured through the roofing cover and into the structural roof deck, and a waterproof top plate.