About 170 kW solar power supplies a toll station close to the sea.
Rio de Janeiro / Neckarsulm, 04. July 2014 – Together with renowned partners, KACO new energy got the ball rolling for this pioneering Brazilian PV project in record time.

Not only Brazil's Seleção, but also the PV market in the host country of the football world cup is stepping up the pace. Nonetheless, the partners KACO new energy, Kyocera Solar do Brasil und Companhia de Concessão Rodoviária Juiz de Fora - Rio (CONCER) are keeping up: In less than 4 weeks they got the biggest PV plant in the State of Rio de Janeiro up and running. The playing field: the roof of the toll station at Kilometer 102 on Highway BR-040. The line up: The playmakers are the 680 Kyocera KD 245 modules, a Powador Mini-Argus organizes and 3 Powador 72.0 TL3 hammer the 166 kW output into the net(work). And by that we mean an 'own goal': Terrible for footballers, for solar strikers self consumption is naturally a golden goal. Whereas everything is still largely up in the air in the football world cup, the solar partners scored big time, electrifying people for decades to come: The operators can expect about 220 MWh every year. Since the 11th of June, everyone who pays the highway toll receives their solar powered CONCER ticket. Maybe they are on their way to the most exciting final ever.
About KACO new energy
KACO new energy is amongst the world's largest manufacturers of solar inverters. With 850 employees and offices in 16 countries, the company offers inverters for every array size from the smallest homes to the largest solar farms of hundreds of Megawatts. KACO new energy is based in Neckarsulm, near Stuttgart, Germany and the production facilities there, in the Americas and Asia have supplied nearly
7 Gigawatts of inverters since 1999. The company was the first inverter manufacturer to achieve fully carbon-neutral production and is rapidly heading towards power self-sufficiency.
KACO new energy also supplies energy storage systems and battery inverters, as well as inverters for combined heat and power plants and CPV systems. KACO new energy is celebrating the centenary of the original company in 2014.
Featured Product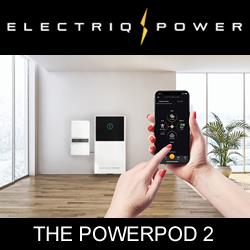 The Electriq PowerPod 2 is a fully-integrated home energy storage, management, and monitoring system powered by LFP batteries. The high-performance, cobalt-free product includes a hybrid solar/battery inverter controlled by intelligent software. The PowerPod 2 provides backup power and can self-consume or export excess power back to the grid.