Founded in 1993, DPW Solar designs and manufactures PV solar rack mounting systems under its POWER-FAB® name for utility, commercial, residential, and industrial applications.
July 8, 2014 Albuquerque, New Mexico -- DPW Solar, a wholly owned subsidiary of Preformed Line Products Company announces the new POWER-FAB® Universal Top-of-Pole PV Mounting System.

Designed with the professional PV solar installer in mind, the new Universal Top-of-Pole mount securely mounts most 60 cell PV modules. Configured and packaged for the stocking distributor, the UTPMs are available in 4 through 15 module counts and install quickly over standard round pipe. The robust single pole mounting system features high strength welded steel construction, aluminum mounting rails and corrosion resistant components for long term reliability.
Similar to the industry leading POWER-FAB® TPMs, the universal version, (UTPM), offers seasonal adjustability, easy access under-flange clamping and compatibility with grounding washers. Revolutionary slide plates and rail brackets provide easy adjustability and module alignment for a professional appearance.
DPW Solar designs and manufactures all our solar mounting systems in its United States factories. With over 20 years in the solar industry, DPW Solar knows what it takes to provide the right combination of innovative products and proven technologies. So no matter what your application demands, DPW Solar has the right set of solutions to meet your needs. For more information on DPW Solar solutions visit us online at www.dpwsolar.com, for mounting hardware support email us online at: info@power-fab.com, or call 800-260-3792.
Featured Product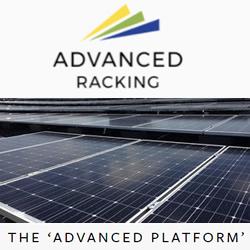 The 'Advanced Platform' simplifies the installation process by using universal mounting hardware that works perfectly across all roof types. Smart roof connection kits then connect to the specific roof's surface. The Advanced Platform is versatile: Our common design can be your single solution for all roof types.