Intersolar North America Conference July 8, 2014 in San Francisco, California
MERRIMACK, N.H., July 7, 2014 -- GT Advanced Technologies (Nasdaq:GTAT) is presenting at the 2014 Intersolar North America conference being held in San Francisco, California, July 8-10, 2014. On Tuesday, July 8, at 9:00 am, Dr. Gopal Prabhu, Sr. Director of Technology will deliver a presentation about GT's recently announced Merlin™ technology entitled, Innovative Cell Metallization and Interconnect Technology for Improved Module Performance and Lower Installed System Cost.

Merlin is a revolutionary interconnect technology that enables efficiency and cost reductions across the entire solar value chain. Unlike other interconnect technologies, Merlin is designed to dramatically increase durability of the modules when subjected to extensive thermal cycling and vibration testing. Additionally, it is a simple drop-in technology that minimizes the risk of adoption by avoiding the use of new materials in the construction of the module while keeping additional cap-ex to a minimum. While Merlin™ has been successfully developed and tested primarily for implementation in standard multi and mono crystalline silicon solar cells, it is uniquely suited for high current modules incorporating bifacial cells as well.
About GT Advanced Technologies Inc.
GT Advanced Technologies Inc. is a leading diversified technology company producing advanced materials and innovative crystal growth equipment for the global consumer electronics, power electronics, solar and LED industries. Its technical innovations accelerate the use of advanced materials, enabling a new generation of products across this diversified set of global markets. For additional information about GT Advanced Technologies, please visit www.gtat.com
Featured Product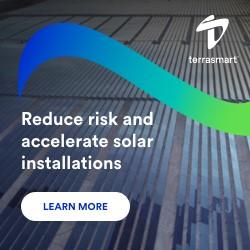 The first and only single axis tracker that allows you to turn unusable land into valuable assets. Built tough for reliable performance, TerraTrak will maximize energy output and returns conquering the most challenging sites. Employ PV where you never thought possible through durable mechanics and intelligent control technology.