Company expects award-winning power conversion technology to be a "game-changer" for grid resilient, grid-tied and remote off grid power
SAN FRANCISCO, Calif. – Intersolar North America – Ideal Power Inc. (NASDAQ: IPWR), a developer of a disruptive power conversion technology, introduced its award-winning 3-port 30kW Hybrid Converter Family, for off grid, grid-tied and grid resilient applications, at the Intersolar North America conference in San Francisco. The company spoke at several conference sessions about the product's unique ability to cost effectively integrate energy storage and solar photovoltaic (PV), which it believes will accelerate deployment of microgrids. The microgrid market is forecasted to reach $40 billion in annual revenues by 2020 according to Navigant Research.

At Intersolar Europe, the world's largest solar exhibition, the company's Hybrid Converter was recently awarded the 2014 electrical energy storage (ees) AWARD for product innovation to improve efficiency and cost of combined energy storage and PV applications. Due to an improvement in size, weight, cost and efficiency, the Hybrid Converter integrates multiple power sources for microgrids lowering the cost of delivering grid resiliency during blackouts, such as Superstorm Sandy, and reducing dependency on expensive diesel fuel for off grid applications.
Ideal Power's Hybrid Converter Family is the first to use the company's patented Power Packet Switching Architecture™ (PPSA) in a 3-port product. This enables the integration of solar PV inverter functions on one DC port and bi-directional battery converter functions on the second DC port while a third AC port is used to support both grid-tied and microgrid applications. The DC port functionality is software-defined, enabling integration of other power sources including diesel gensets, EV charging infrastructure or DC microgrids. The Hybrid Converter supports these numerous functions with only a modest increase in product size and weight over the company's established 2-port battery converter, with no loss of system efficiency. Conventional hybrid converters that combine storage and solar PV require multiple hardware units, which increase size, weight and cost, and multiple power conversion stages, which reduce efficiency.
The company estimates that its Hybrid Converter will reduce the size and weight of microgrid power electronics that integrate PV and storage by 90 percent, which reduces material, manufacturing, shipping and installation costs. The company's Hybrid Converter is also expected to significantly improve PV to battery to load efficiency by 10 percentage points. "We believe that the lower weight and improved efficiency of our Hybrid Converter will drop the cost of implementing microgrids and accelerate adoption," said Dan Brdar, Chief Executive Officer of Ideal Power. "We also expect our hybrid converter to improve modularity and interoperability, so that microgrid systems can migrate from custom engineered projects to using standard plug-and-play components."
During the conference sessions, the company discussed two microgrid markets for the Hybrid Converter family: grid resilient power, which includes backup power for commercial buildings during grid failures, and remote off grid power, which includes tactical military and remote communities that depend on diesel generators.
Grid Resilient Power
Grid resilient power will provide backup power to commercial, utility infrastructure and residential applications that are dependent on existing power grids. Ideal Power expects the initial application of its Hybrid Converter will be commercial buildings that must improve grid resiliency to blackouts, such as Superstorm Sandy. Ideal Power's 30kW Hybrid Converter is expected to lower the cost of grid resiliency using distributed storage and distributed generation.
A growing number of leading battery energy storage system (BESS) integrators are using Ideal Power's 2-port battery converter as a key component in their BESS solution to reduce peak demand charges for commercial building owners. These BESS integrators plan to use Ideal Power's Hybrid Converter to economically add grid resiliency to their next generation solutions. It is expected that the installed costs of these commercial grid resilient microgrids will be only modestly more than existing BESS which are financed through peak demand savings.
Remote Off Grid Power
The market for remote off grid power systems is projected to reach $8 billion annually by 2020 according to Navigant Research. This market includes several segments: tactical military, remote communities, and mining/oil & gas extraction. These segments all primarily depend on diesel fuel as the source of electricity. The Hybrid Converter is expected to enable low cost, efficient and reliable integration of battery storage, solar PV and diesel generators. This is expected to reduce diesel fuel requirements by more than 75 percent with attractive economic paybacks by eliminating both fuel purchases and delivery expenses.
The largest segment of the off grid market will be power for remote communities. According to the International Energy Agency (IEA), 1.3 billion people have no access to a power grid and Ideal Power estimates an even larger number is completely dependent on diesel fuel for their power systems. Ideal Power expects its Hybrid Converter will reduce expensive fuel consumption and energy costs to meet the needs of these underserved billions.
The Hybrid Converter was on display at Intersolar NA in the Ideal Power booth #8140, Moscone West Convention Center, Level 2.
About Ideal Power Inc.
Ideal Power Inc. (NASDAQ: IPWR) has developed a novel, patented power conversion technology called Power Packet Switching Architecture™ (PPSA). PPSA improves the size, cost, efficiency, flexibility and reliability of electronic power converters. PPSA can scale across several large and growing markets, including commercial Battery Energy Storage Systems (BESS), electrified vehicle charging, and solar photovoltaic generation. Ideal Power utilizes a capital-efficient business model to commercialize our technology through the use of contract manufacturing, product licensing, and market distribution channels. Ideal Power has won multiple grants including one from the Department of Energy's Advanced Research Projects Agency - Energy (ARPA-E) to commercialize bi-directional power switches, which are expected to improve power density by thirty percent and reduce efficiency losses by fifty percent. For more information, visit www.IdealPower.com.
Safe Harbor Statement
All statements in this release that are not based on historical fact are "forward looking statements" within the meaning of the Private Securities Litigation Reform Act of 1995 and the provisions of Section 27A of the Securities Act of 1933, as amended, and Section 21E of the Securities Exchange Act of 1934, as amended. While management has based any forward looking statements included in this release on its current expectations, the information on which such expectations were based may change. These forward looking statements rely on a number of assumptions concerning future events and are subject to a number of risks, uncertainties and other factors, many of which are outside of our control that could cause actual results to materially differ from such statements. Such risks, uncertainties, and other factors include, but are not limited to, whether the patents for our technology provide adequate protection and whether we can be successful in maintaining, enforcing and defending our patents, whether demand for our products, which we believe are disruptive, will develop and whether we can compete successfully with other manufacturers and suppliers of energy conversion products, both now and in the future, as new products are developed and marketed. Furthermore, we operate in a highly competitive and rapidly changing environment where new and unanticipated risks may arise. Accordingly, investors should not place any reliance on forward-looking statements as a prediction of actual results. We disclaim any intention to, and undertake no obligation to, update or revise forward-looking statements.
Ideal Power Media Contact:
Mercom Capital Group
Wendy Prabhu
1.512.215.4452
www.mercomcapital.com
idealpower@mercomcapital.com
Featured Product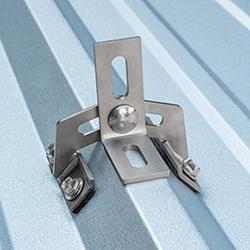 Explore new lines of income for your solar installation business with QuickBOLT's Stone Coated Steel roof mounts designed in partnership with metal roof manufacturers themselves. These SCS roof mounts work on all metal tile profiles and will help you bring in money you're missing out on. By not driving into the roofing material, QuickBOLT's Stone Coated Steel roof hooks maintain the integrity of the roof. Install with ease and confidence knowing your roof is protected against the harsh elements that these hooks are designed for.