Princeton Power Systems is Booth #8033 at the Intersolar North America Yearly Event
PRINCETON, N.J., July 8, 2014 -- Princeton Power Systems, a leading global designer and manufacturer of technology products and embedded software for energy management, micro-grid operations, and electric vehicle charging, announced today that they will be exhibiting and speaking at the Intersolar North American Annual Conference: July 7th - July 10th in San Francisco, CA, at the Moscone Center. Princeton Power Systems is Booth #8033.

"Intersolar North America is a premier event where we are able to showcase Princeton Power Systems' capabilities of PV production technologies and energy storage technologies," said Ken McCauley, President and CEO for Princeton Power Systems. "During this event, industry leaders come together to share the most up-to-date information and technologies for the solar industry."
Darren Hammell, co-founder and Chief Strategy Officer, will be conducting three Intersolar speaking engagements with the first speaking engagement focusing on Energy Storage: Applications and System Solutions, on Monday, July 7, 2014 at 1:30 PM to 3:00 PM. Mr. Hammell's second speaking engagement will focus on Innovation and Application Storage and Reducing Energy Costs and Adding Reliability of the Electric Grid, which will take place on Tuesday, July 8, 2014 from 1:15 PM to 1:30 PM. Mr. Hammell will round out his speaking engagements on Thursday, July 10, 2014 and will be speaking on Alcatraz Island: Off Grid-Microgrid from 11:00 AM to 11:30 AM in the Moscone Center, West Hall, Level 2, Exhibition Floor.
"By exhibiting and speaking at Intersolar, we are able to present Princeton Power Systems' solar and microgrid technologies to the world's solar industry leaders," explained Darren Hammell, Co-Founder and Chief Strategy Officer at Princeton Power Systems. "I am eager to speak during the three engagements and provide insight into our technologies."
Intersolar North America is the world's leading exhibition series for the solar industry and its partners. It unites people and companies from around the world with the aim of increasing the share of solar power in our energy supply. By providing first-rate services, their exhibitions and international conferences bring business, technologies and people from the most important markets around the globe together.
About Intersolar North America
Intersolar North America takes place annually in San Francisco's Moscone Center. Since its establishment in 2008, the exhibition and conference have developed into the premiere platform for the solar industry in North America. The exhibition focuses on the area of photovolaics, PV production technologies, energy storage and solar thermal technologies. It is co-located with SEMICON West and, since its founding, has become the international industry's meeting point for manufacturers, suppliers, distributors, service providers and partners of the solar industry.
In total, 576 exhibitors and 17,881 trade visitors participated in 2013. The conference featured more than 50 sessions with over 200 speakers and catered to about 1,600 conference attendees.
About Princeton Power Systems
Princeton Power Systems, based in New Jersey and founded in 2001, designs and manufactures state-of-the-art technology solutions for energy management, microgrid operations and electric vehicle charging. The company is a global leader working with customers and partners across North America, Europe, Africa and the Caribbean. It manufactures UL and CE-certified power electronics that are used in advanced battery operations and alternative energy, with built-in smart functions for ancillary services. The company solves power issues to allow continued growth of distributed renewable energy by providing energy storage solutions that are proven to work, even in harsh environments. Princeton Power Systems builds integrated systems and designs, commissions and operates microgrids for leading organizations, including Fortune 500 automakers and industrials, and non-profit organizations. The company proudly manufactures its products in the USA. More information about Princeton Power Systems is available at www.princetonpower.com.
Featured Product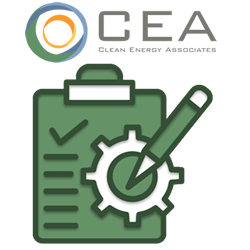 Clean Energy Associates provides a complete quality assurance solution that covers the entire product lifecycle of PV modules, storage systems, and every Balance of Sy stem (BOS) component. CEA's experienced on-the-ground and international team of quality control engineers and account managers offer an unparalleled quality assurance presence that can protect solar and storage investments and ensure future energy-producing viability for the life of the product.