Easy-to-install system built with the smallest and lightest components on the market.
TAIPEI, Taiwan, July 8, 2014 -- i-Energy, pioneers in small scale and DIY solar solutions, announces the launch of i-Protect, the world's smallest AR-N-4105-compliant protection device. Together with the new GT260 micro-inverter, i-Protect helps to form i-Energy's smart solar home solution – an easy-to-install system built with the smallest and lightest components on the market.

Light and compact, i-Protect sets a new standard for size and function. It is currently the smallest protection device on the market, approximately a third smaller than its competitors. In addition to providing electrical protection between the micro-inverter and the grid, i-Protect has an auto-mechanical switch off as an enhanced layer of protection.
i-Protect provides voltage, frequency, and power protection to meet AR-N-4105 and other regulatory requirements. The IP67-rated design is air cooled and intended for both indoor and outdoor use. As is typical of the components in i-Energy's smart solar home solution, the mounting and connection are designed to be foolproof.
The new GT260 micro-inverter, which is at the center of i-Energy's smart solar home solution, can provide 5 to 25% more energy per solar module than string inverters and is designed to eliminate output reduction caused by panel shading or surface debris. The new GT260 is the lightest micro-inverter on the market, and was engineered with excellent heat dissipation for long-term reliability. Like i-Protect, it uses convenient plug-and-play connections for simplicity and safety.
In addition to being convenient to install, i-Energy's smart solar home solution includes i-Manager, which allows users to appreciate the value, and the environmental contribution that their system makes. This optional device collects power and performance data from i-Energy micro-inverters. Installation is as easy as plugging the unit into a household AC socket; i-Manager then automatically searches for, connects to, and collects data from the micro-inverters using power line communication. Information is displayed on the i-Manager's screen with more extensive information viewable using the i-Monitor service. This is an innovative newly developed web portal, which provides real-time performance information in an easy-to-read, graphic based format, available 24/7 and viewable on both desktop and mobile browsers.
The compact size of i-Protect and the new GT260 micro-inverter plus the focus on simple installation and monitoring, make i-Energy's solution ideal for the growing self-install market and makes small-scale installations more attractive for solar professionals.
i-Energy CEO, Steven Huang, said: "This smart solar home solution includes advanced technology to make the product lighter and smaller, making it a market-leading solution. i-Energy's micro-inverter solution is the best choice for solar DIY equipment. Customers can start their system with only one solar panel with one micro-inverter and one i-Protect. This means minimum upfront costs, enabling you to put solar systems everywhere. We always design our solar products from the end-user perspective."
Each i-Protect unit can support a maximum of 3.6 kW. i-Protect will be available from July 2014.
About i-Energy
Founded in 2009, i-Energy is a pioneer in advanced photovoltaic power optimization and conversion products for residential and commercial applications. The company is dedicated to the concept of solar technology as a consumer green appliance; making Smart Energy available to all. i-Energy's solar micro-inverter solutions offer high reliability, increased energy optimization, enhanced safety, simple installation, and easy servicing.
More information can be found at www.i-energyinc.com
Or visit us at Intersolar America:
Event dates: July 8-10, 2014
Event location: Moscone Center, San Francisco
Booth number: 8338
Featured Product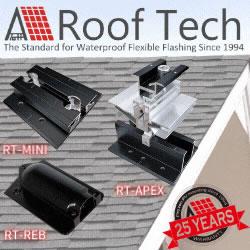 Now Roof Tech brings you the most innovative, watertight mounting systems ever developed for solar photovoltaic systems. Designed and manufactured exclusively for us by Japan's longtime leader in roofing technologies, Roof Tech products are 100% code-compliant and offer fast, simple installation and huge savings on shipping costs due to their compact, rail-less design. Learn more about our full line of versatile PV mounting solutions now available for residential installations. The next generation in rooftop solar mounting solutions."