33 GE 2.85-100 Wind Turbines Will Power the Dunmaglass Wind Farm ----GE Designed Wind Turbines Specifically for the Site to Meet Specific Requirements ----Second Project with SSE and GE in Scotland Announced in 2014
SCHENECTADY, N.Y.--Further advancing the growth of renewable energy throughout the United Kingdom, GE (NYSE:GE) today announced that it will supply SSE Renewables with 33 GE 2.85-100 wind turbines for the Dunmaglass Wind Farm, located near Inverness, Scotland. GE specially designed these wind turbines for the project with a 70-meter tower so they meet the associated planning conditions that require a maximum tip height of 120 meters.

The 33 wind turbines on the Dunmaglass Wind Farm will result in an installed capacity of 94 megawatts (MW), which will contribute to Scotland meeting its renewable energy targets.
SSE acquired the Dunmaglass Wind Farm from Renewable Energy Systems Group in May 2013. The wind farm is located on Dunmaglass Estate, near Loch Mhor, in the Monadhliath Mountains.
The Scottish government's target for renewable electricity generation is for renewables to generate the equivalent of 100 percent of gross annual consumption by 2020, with a new interim target of 50 percent by 2015. The Dunmaglass Wind Farm, with the support of GE, aims to help the Scottish government achieve its challenging renewable energy targets.
"For the Dunmaglass Wind Farm, we worked with SSE to create turbines specifically designed to meet the strict parameters set forth by the local planning authority, which restricted the maximum tip height to 120 meters. We developed a 70-meter tower solution to meet these requirements," said Cliff Harris, general manager of GE's renewable energy business in Europe. "As wind energy continues its rapid growth in Scotland, we too are growing our business throughout the United Kingdom, and we are pleased to work again with SSE to help bring Scotland a cleaner power source."
SSE is the largest generator of electricity from renewable sources across the U.K. and Ireland and has around 3,300 MW of renewable energy capacity. To date, SSE currently is operating 139 GE wind turbines and an additional 43 are due to be commissioned by the end of 2015.
In March 2014, SSE and GE announced that GE will provide 10 1.6-MW wind turbines for the Langhope Rig Wind Farm in Scotland and this site is currently under construction.
GE's operations in the U.K. have grown and with its latest projects in Scotland for SSE, GE has more than doubled the size of its U.K.-based commercial and sales teams. "GE is committed to supporting SSE's objectives of delivering on-site service with specialized support," Harris added.
About SSE plc
SSE is one the U.K.'s largest generators of electricity with around 11,600 MW of generation capacity in total (U.K. and Ireland) from the most diverse portfolio of power stations. It is the leading generator of electricity from renewable resources with a total generation capacity of around 3,300 MW. Through its renewable development division, SSE Renewables, it is involved in the development of new renewable energy projects covering wind, wave, tide and hydro electricity.
About GE
GE (NYSE:GE) works on things that matter. The best people and the best technologies taking on the toughest challenges. Finding solutions in energy, health and home, transportation and finance. Building, powering, moving and curing the world. Not just imagining. Doing. GE works. For more information, visit the company's website at www.ge.com.
About GE Power & Water
GE Power & Water provides customers with a broad array of power generation, energy delivery and water process technologies to solve their challenges locally. Power & Water works in all areas of the energy industry including renewable resources such as wind and solar; biogas and alternative fuels; and coal, oil, natural gas and nuclear energy. The business also develops advanced technologies to help solve the world's most complex challenges related to water availability and quality. Power & Water's six business units include Distributed Power, Nuclear Energy, Power Generation Products, Power Generation Services, Renewable Energy and Water & Process Technologies. Headquartered in Schenectady, N.Y., Power & Water is GE's largest industrial business.
Featured Product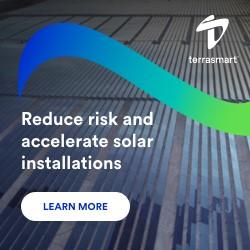 The first and only single axis tracker that allows you to turn unusable land into valuable assets. Built tough for reliable performance, TerraTrak will maximize energy output and returns conquering the most challenging sites. Employ PV where you never thought possible through durable mechanics and intelligent control technology.