National Geothermal Summit to Encourage Expansion of the West's Geothermal Power
Reno, Nev. (July 9, 2014)—The Geothermal Energy Association (GEA) will hold its fourth annual National Geothermal Summit Tuesday, August 5 and Wednesday, August 6 in Reno, Nevada. Renewable energy development in California is expected to be at the center of many conversations. The leading forum for western state policy discussions, the National Geothermal Summit will bring together policy leaders, utilities and industry professionals to discuss the opportunities and challenges facing the industry.

"California has ambitious climate goals. Fortunately, it also has the geothermal resources and potential to access those goals," said GEA Executive Director Karl Gawell. "GEA anticipates that the Summit will spur many productive conversations powering the state's geothermal development."
Key California players participating in this year's Summit include Senator Ben Hueso, California 40th District; Carl Stills, Energy Manager, Imperial Irrigation District; Tracy Sizemore, Vice President of Business Development, Simbol Materials; Andy Horne, Deputy County Executive Officer, County of Imperial; Barry Dong, Manager Geothermal/Biomass, Los Angeles Department of Water and Power (LADWP); V. John White, Executive Director, CEERT; Rob Oglesby, Executive Director, California Energy Commission; Karen Edson, Vice President, Policy and Client Services, California ISO; Vince Signorotti, Vice President of Resource & Real Estate Assets, EnergySource; Jim McIntosh, Senior Vice President of Operations, Z-Global; and Arne Olson, Partner, Energy and Environmental Economics, Inc (E3).
GEA recently issued a status report on California's geothermal resources that says they are still largely untapped. The report found that the Salton Sea Known Geothermal Resource Area is considered by many to be the best opportunity for growth in California in the near term. A panel held the afternoon of August 6 will discuss how industry and the public sector can work together to achieve the potential of Southern California's Salton Sea. The discussion follows March's formalization of the Salton Sea Restoration and Renewable Energy Initiative, an effort to further fund the development of renewable energy in the Imperial Valley. Randy Keller, Director of Development, Transmission, and Land Assets, CalEnergy, will chair the panel discussion.
"Being the largest owner/operator of the most abundant geothermal field in North America, the Salton Sea Known Geothermal Resource, CalEnergy provides a clean baseload alternative – the most reliable renewable energy source available today. Our company has been operating in the Imperial Valley for more than 25 years and is leading recontracting efforts that promote geothermal procurement in the state to enable a reliable electrical grid," Keller noted. "We believe geothermal generation is ideally suited to meet the ongoing renewable energy needs of California, and we look forward to participating in conversations surrounding opportunities and challenges facing geothermal energy, as well as the future of the industry."
IID's Stills will join the panel. "In the next decade, I see geothermal rightfully taking its place in the marketplace as a valuable, cost-effective, baseload resource. With its re-emergence and the shedding of coal and OTC generation, geothermal energy will add value to stabilizing the grid issue presented by intermittent resources present today," Stills remarked. "I hope the Summit will energize the industry to promote baseload renewable energy and to actively support SB1139."
"California leads the way in reducing dependence on fossil fuels and cleaning our air and our environment. Geothermal can help our state reach its goal of reducing greenhouse gas emissions to 1990 levels by 2020, in addition to restoring important environmental habitat," noted Senator Hueso, who represents California's 40th Senate District, including the cities of Chula Vista, National City, Imperial Beach, Coronado, a portion of the City of San Diego, Imperial County and the southern part of Riverside. "I want to continue learn more about geothermal to help educate my colleagues and constituents on the added benefits of this important renewable energy source. Engaging in a comprehensive dialogue about this important renewable energy source will help me develop real solutions in state policy that balance industry needs while protecting California ratepayers."
"Geothermal energy plays an important role in helping California meet its renewable electricity goals," said California Energy Commission's Oglesby. "On a recent June day, geothermal power plants produced more than 12 percent of the state's renewable energy. Yet we're pursuing an even cleaner energy future and look forward to hearing from those in the geothermal industry on how they can help us get there."
California has about 2,720 MW of geothermal power on-line and produced 13,230 GWh in 2012. The U.S. Geological Survey estimates that there are an additional 2,500 MW of discovered geothermal power resources in California and 11,000 MW of undiscovered resources.
Event and registration details for the National Geothermal Summit can be found at http://www.geo-energy.org/nationalgeothermalsummit/Main.aspx. For more information or to schedule an interview with a GEA representative, please contact Shawna McGregor, The Rosen Group, 917 971 7852 or shawna@rosengrouppr.com.
About the Geothermal Energy Association:
The Geothermal Energy Association (GEA) is a trade association comprised of U.S. companies that support the expanded use of geothermal energy and are developing geothermal resources worldwide for electrical power generation and direct-heat uses. GEA advocates for public policies that will promote the development and utilization of geothermal resources, provides a forum for the industry to discuss issues and problems, encourages research and development to improve geothermal technologies, presents industry views to governmental organizations, provides assistance for the export of geothermal goods and services, compiles statistical data about the geothermal industry, and conducts education and outreach projects. For more information, please visit www.geo-energy.org. Subscribe to GEA's newsletter here. Follow GEA on Twitter. Become a fan on Facebook.
Featured Product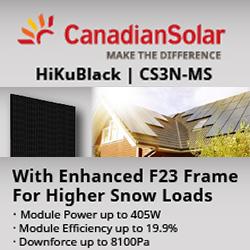 Aesthetic appearance for residential systems: With black backsheet & black frame, Power range 380 ~ 405 W, Low power loss in cell connection. Enhanced reliability: · Low temperature coefficient (Pmax): -0.34 % / °C, LID LeTID less than 2.0%, Lower hot spot temperature, Better shading tolerance.