Major names in the international geothermal community and regional and national politics will address the geothermal energy industry at the GRC Annual Meeting in Portland, Oregon, USA.
(Portland, Oregon, USA) The Geothermal Resources Council (GRC) has announced more details of events at the world's largest annual geothermal conference, the GRC Annual Meeting & GEA Geothermal Energy Expo, held this year at the Oregon Convention Center in Portland, Oregon, September 28-October 1, 2014.

The speakers at the Opening Session of the GRC Annual Meeting on Monday morning, September 29 includes major names in the international geothermal community and regional and national politics: Juliet Newson, President of the International Geothermal Association Board of Directors; Oregon Senator Ron Wyden; Oregon Congressman Greg Walden; Oregon Governor John Kitzhaber; Pat Reitan, CEO, PacifiCorp; Isaac Angel, CEO, ORMAT; Dennis Gilles, CEO, US Geothermal; Rachel Shimshak, Executive Director, Renewable Northwest; Carl Stills, Energy Manager, Imperial Irrigation District; David Olsen, California ISO Board of Directors; Louis Capuano Jr., GRC president, and Craig Mataczynski, Geothermal Energy Association president.
In addition, the GRC is presenting an International Session on Monday afternoon, September 29 with speakers providing updates on geothermal energy development around the world: Kevin Faure, GNS Science New Zealand; Dr. Suryantini, Bandung Institute of Technology, Indonesia; Fernando Peñarroyo, National Geothermal Association of the Philippines; Kasumi Yasukawa, National Institute of Advanced Industrial Science and Technology, Japan; Orhan Mertoğlu, Turkish Geothermal Association; Eva Schill, Karlsruhe Institute of Technology, Germany; Diego Morata, University of Chile; Paul Moya, West Japan Engineering Consultants, Inc., and Luis Carlos Gutiérrez Negrín, Geocónsul, S.A. de C.V., Honduras.
The GRC Annual Meeting & GEA Geothermal Energy Expo is the industry's largest annual gathering of leading geothermal energy scientists, producers, renewable energy industry stakeholders, regulators, utilities, and key associated business leaders. The four-day event will offer technical, policy, and market conference sessions, educational seminars, tours of local geothermal and renewable energy projects, and numerous networking opportunities.
Registration to the GRC Annual Meeting will open very shortly and will include entry to the GEA Expo. Room reservations can now be made on the GRC website at www.geothermal.org. A discounted room rate is available until September 3, so early reservations are recommended.
For more information about the GRC Annual Meeting & GEA Geothermal Energy Expo at the Oregon Convention Center in Portland, Oregon, USA visit www.geothermal.org or call (530) 758-2360.
For information on how to sponsor this event, contact Estela Smith, GRC at (530) 758-2360 or grc@geothermal.org.
##
About the Geothermal Resources Council:
With the experience and dedication of its diverse, international membership bolstering a more than 40-year track record, the Geothermal Resources Council has built a solid reputation as the world's preeminent geothermal association. The GRC serves as a focal point for continuing professional development for its members through its outreach, information transfer and education services.
For more information, please visit www.geothermal.org.
Get your daily geothermal news at Global Geothermal News [globalgeothermalnews.com]. Become a fan on Facebook [www.facebook.com/GeothermalResourcesCouncil]. Follow GRC on Twitter [@GRC2014 & @GRC2001]. Check out GRC's YouTube Channel [www.youtube.com/GeothermalCouncil]. See geothermal photos on GRC's Flicker page. [www.flickr.com/photos/geothermalresourcescouncil]
###
Featured Product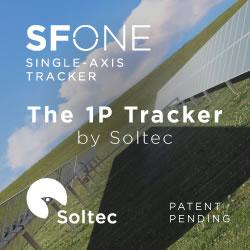 SFOne is the 1P single-axis tracker by Soltec. This tracker combines the mechanical simplicity with the extraordinary expertise of Soltec for more than 18 years. Specially designed for larger 72 an 78 cell modules, this tracker is self-powered thanks to its dedicated module, which results into a lower cost-operational power supply. The SFOne has a 5% less piles than standard competitor, what reduces a 75% the labor time.