The Susan Lamp Substantially Reduces Energy Use and Provides Improved High-bay LED Lighting
Santa Clara, Calif., – July 15, 2014 – Lunera® Lighting, Inc., a leader in lighting innovations accelerating the transformation to advanced LED technology, today announced it will be featuring the Susan Lamp in its booth during the fourth annual Green Sports Alliance Summit. The Susan Lamp is designed to deliver superior light levels at a fraction of the power used by a metal halide bulb. The Summit will be held at the Santa Clara Convention Center in Santa Clara, Calif., July 21-23, 2014.

Made in the U.S.A, the award-winning Susan Lamp is a plug-and-play LED lamp, making 400, 250 and 175-watt metal halide lamps obsolete by bringing high-quality; energy-efficient LED light to high-bay lighting applications. By using Lunera's BallastLED™ technology, the Susan Lamp leverages existing fixtures and ballasts with no conversion expense.
"Converting a sports facility to LED lighting will immediately reduce its environmental impact and yield considerable energy savings upon installation. The long lifespan, improved light and elegant design of the Susan Lamp makes upgrading to LED in high-bay applications as simple as changing a light bulb," said Tom Quinn, Lunera Vice President of Sales and Marketing.
"With our plug-and play approach, we offer the lowest installed cost-per-watt saved of any LED high bay solution available in the market today," commented Quinn.
Simple to install, valuable to own and reliable to operate, the Susan Lamp eliminates the frustrations of rapid lumen depreciation, short life span, and excessive power consumption of the metal halide lamps it replaces.
The Susan Lamp Product Line
Two lamp sizes are available. The Susan Lamp Pro is a high-lumen LED lamp, which improves upon the existing lighting levels typically found in high bay applications, while reducing energy consumption by 60 to 70 percent. The Susan Lamp Junior delivers similar light levels typically found in high bay applications, but extends the energy savings to 70 to 80 percent. With a long 50,000-hour lifespan, the Susan Lamp product line eliminates five metal halide replacement cycles, saving maintenance costs and reducing waste.
Where to Buy
The Susan Lamp is available through authorized nationwide distributors. Contact Lunera to arrange a demonstration or to locate a distributor near you.
About Green Sports Alliance
The Green Sports Alliance is a nonprofit organization with a mission to help sports teams, venues and leagues enhance their environmental performance. Since launching in March 2011 with 6 professional teams, including the NHL's Vancouver Canucks, and 5 venues as founding members, the Green Sports Alliance has grown to over 240 teams and venues, from 20 different sports leagues. Visit www.greensportsalliance.org for more information.
About Lunera
Lunera Lighting is an innovative technology leader in LED light products that are simple to install, reliable to operate, and valuable to own. Lunera designs, assembles, and markets high performance commercial LED fixtures and lamps that obsolete traditional lighting technologies. For building owners and operators, Lunera's products reduce operating expenses by lowering electricity and maintenance costs. For occupants, Lunera's technology improves light quality, enhancing comfort and productivity. Based in Silicon Valley, Lunera is part of a community of progressive companies that challenge convention and transform industries for the benefit of all. Visit Lunera on the web, Facebook or Twitter.
Featured Product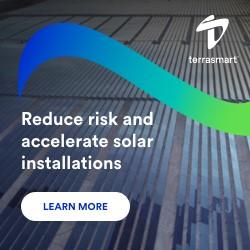 The first and only single axis tracker that allows you to turn unusable land into valuable assets. Built tough for reliable performance, TerraTrak will maximize energy output and returns conquering the most challenging sites. Employ PV where you never thought possible through durable mechanics and intelligent control technology.