ACEEE Issues 2nd Int'l Scorecard Report Ranking 16 Major Economies: Australia, Brazil, Canada, China, E.U., France, Germany, India, Italy, Japan, Mexico, S. Korea, Spain, Russia, U.K., & U.S.
WASHINGTON, D.C.///News Advisory///Which major nation has the most

energy-efficient economy? Is the United States ahead of or behind other
nations -- including the U.K., China, Germany, India, and Japan -- when it
comes to energy efficiency?
The American Council for an Energy-Efficient Economy (ACEEE) will release
its second edition of the International Energy Efficiency Scorecard report
measuring the energy efficiency of 16 of the world's largest economies. The
new ACEEE scorecard will be released during a phone-based news event at 11
a.m. EDT/3 p.m. GMT on July 17, 2014.
Four countries have been added to the 2014 report that were not included in
the 2012 version: India, Mexico, South Korea, and Spain. The 16 economies of
Australia, Brazil, Canada, China, France, Germany, India, Italy, Japan,
Mexico, South Korea, Spain, Russia, U.K., U.S., & European Union account for
71 percent of global gross domestic product. The nations will be compared in
31 different categories for energy efficiency.
ACEEE also publishes a widely followed annual scorecard that ranks U.S.
states on energy efficiency as well as a city energy efficiency scorecard
that ranks U.S. cities and municipalities.
Speakers will include:
* ACEEE Executive Director Steven Nadel;
* Rep. Peter Welch (Vermont), U.S. House of Representatives;
* Dr. Philipp Ackermann, Minister and Deputy Chief of Mission, Chargé
d'Affaires, Embassy of the Federal Republic of Germany; and
* ACEEE Research Analyst Rachel Young.
TO PARTICIPATE: Join the live, phone-based news conference (with full,
two-way Q&A) at 11 a.m. EDT/3 p.m. GMT on July 17, 2014 by dialing 1 (877)
418-4267. For callers outside of the U.S., please dial +1 (412) 717-9585.
Ask for the "ACEEE international scorecard" news event.
CAN'T PARTICIPATE?: A streaming audio replay of the news event will be
available on the Web at http://www.aceee.org as of 5 p.m. EDT/9 p.m. GMT on
July 17, 2014.
CONTACT: Ailis Wolf, (703) 276-3265 or aawolf@hastingsgroup.com.
Featured Product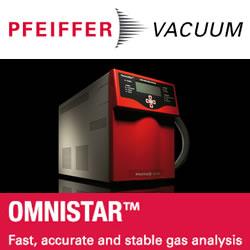 The Pfeiffer Vacuum OmniStar benchtop analysis system offers you a compact footprint, powerful software and Ethernet connectivity. It's the optimum solution for many real-time gas analysis applications. With the OmniStar, Pfeiffer Vacuum offers you a complete solution for gas analysis, in chemical processes, semiconductor industry, metallurgy, fermentation, catalysis, laser technology and environmental analysis. The turnkey OmniStar gas analysis system consists of heated, temperature-regulated gas inlet system, Quadrupole mass spectrometer, a dry diaphragm vacuum pump and HiPace turbopump. Unlike competing methods such as FTIR, OmniStar is suitable for qualitative and quantitative analysis of most gases.