Bustling Exhibition Floor, High Quality Business Connections and Informative Conference Sessions Characterize Intersolar's Seventh San Francisco Event
SAN FRANCISCO, July 17, 2014 -- Intersolar North America, the most well attended solar industry exhibition and conference in North America, successfully concluded its seventh annual show in the heart of the United States' largest solar market. Over the course of three days, more than 17,000 visitors from 74 countries visited 530 exhibitors, and saw the latest innovations in the photovoltaic, energy storage, balance of systems, mounting and tracking systems, and solar heating and cooling market sectors.

In his keynote address, California Gov. Edmund G. Brown Jr. characterized the solar industry as the next Gold Rush, speaking to the economic benefits the industry can deliver as it matures. His speech reflected the positive mood on the show floor and at the Intersolar North America conference, which was due, in part, to the strength of the U.S. solar industry. In 2014, the United States is expected to add between 5.2 and 6.3 gigawatts to its total installed capacity, according to NPD SolarBuzz.
"For seven years, Intersolar North America has served as the preeminent venue for solar industry stakeholders to see and discuss the latest innovations shaping global markets -- and our 2014 event was no exception," said Markus Elsasser, CEO of Solar Promotion International GmbH, and Klaus W. Seilnacht, CEO of FMMI International, organizers of Intersolar North America, in a joint statement. "With a bustling exhibition floor, informative conference sessions and unparalleled deal-making opportunities, we once again strengthened our commitment to providing an invaluable experience for our attendees."
Several exhibitors echoed the positive sentiment that Intersolar North America organizers expressed.
"We're continuously impressed with the types of individuals we have access to by attending Intersolar," said Dean Solon, president of Shoals Technologies group. "We're able to connect with many of the top players to collaborate and drive the industry technologically forward. Which is why, for example, this year at our exhibition booth we launched a new product."
"LG Solar is committed to offering the best-in-class energy efficient solutions that incorporate advanced technology for our customers, and what better place to share our new products than at Intersolar," said Ellen Kim, senior vice president, energy solutions, LG Electronics USA, a featured exhibitor at Intersolar North America 2014. "Year after year, we meet with attendees interested in learning more about evolving solar panel technologies and other advanced solutions -- from energy storage to bifacial technology. Intersolar is a great opportunity to demonstrate our latest high-efficiency solar module solutions to a key audience of decision makers."
This year, Intersolar North America expanded its focus on energy storage, project development and financing and downstream market developments. This included more conference sessions on the topic, as well as new offerings to exhibition attendees designed with Intersolar's robust roster of partners.
In conjunction with the North American Board of Certified Energy Practitioners (NABCEP), 12 exhibitors offered workshops that taught attendees industry best practices, and offered NABCEP credit upon completion. Additionally, with the help of its partner the California Solar Energy Industries Association (CALSEIA), Intersolar North America hosted the first-ever Contractor Day to address the needs of new market entrants and veteran contractors, as well as those looking to add solar installation to their service offering. Intersolar and CALSEIA also announced the two organizations agreed to a five-year extension of their partnership.
"Intersolar North America is a terrific venue to connect with solar professionals and learn valuable insights," said Bernadette Del Chiaro, executive director of California Solar Energy Industries Association (CALSEIA). "A highlight for CALSEIA this year was honoring CPUC President Michael Peevey with the first-ever Champion of Change AWARD for his years of pro-solar policy making. We hope he'll continue supporting solar as we move critical policies forward."
After the energy storage exhibition segment's successful debut in 2013, the number of energy storage companies this year increased to around 50. Reflecting the important link between solar and energy storage technologies, Intersolar forged a new partnership with the National Alliance for Advanced Technology Batteries (NAATBatt) to better address key concerns of solar developers. In addition to consulting on the development of energy storage conference panels, NAATBatt also hosted a storage workshop that addressed the industry's challenges and opportunities.
"Our members were stunned and delighted by the intense interest of solar developers and integrators in storage technology," said James Greenberger, executive director of NAATBatt. "We had to find extra chairs at the last minute for the standing-room only crowds at the NAATBatt Storage Workshop held at the exhibition floor."
To see more exhibition and conference highlights, watch this IntersolarTV video here. Photos of the event are also available.
Intersolar North America will return to San Francisco from July 14 to 16, 2015.
About Intersolar North America
With events spanning four continents, Intersolar is the world's leading exhibition series for the solar industry and its partners. It unites people and companies from around the world with the aim of
increasing the share of solar power in our energy supply.
Since its establishment in 2008, Intersolar North America has become the most attended solar event and the premier networking platform for the North American solar industry. Co-located with SEMICON West, it takes place annually at the Moscone Center in San Francisco, California, the United States' pioneering solar market.
The event's exhibition and conference both focus on the areas of photovoltaics, PV production
technologies, energy storage and solar thermal technologies. Since being founded, Intersolar has
become the most important industry platform for manufacturers, suppliers, distributors, service
providers and partners of the solar industry.
A total of 530 exhibitors and more than 17,000 trade visitors participated in Intersolar North America in 2014. The conference featured 40 sessions and 25 workshops with more than 200 speakers.
With more than 20 years of experience, Intersolar has the unique ability to bring together members of the solar industry from across the world's most influential markets. Intersolar exhibitions and conferences are held in Munich, San Francisco, Mumbai, Beijing and Sao Paulo. Starting in 2014, these global events will be complemented by the Intersolar Summits, which will take place in emerging and growing markets worldwide.
For more information on Intersolar North America, please visit: www.intersolar.us
Featured Product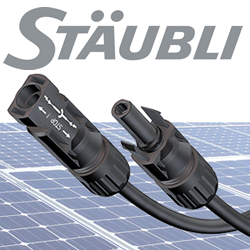 ​Stäubli Electrical Connectors are used on more than 300 GW, over 50% of the PV capacity worldwide. The MC4 family of UL and TUV listed products include connectors, in-line fuses, branch connectors, cable assembly and more.