Siemens is pleased to announce the release of the new "teaser" film "Taking offshore wind service into new waters" for viewing online at Siemens' Energy Channel and on You Tube.
The next generation of offshore wind power plants will be located farther from shore and will require a unique and flexible logistics solution for efficient service and maintenance. As part of a new and unique integrated concept, the new Service Operation Vessel (SOV) will help to address these challenges and will set a new standard in offshore service operations. Siemens will be the first to provide this multi-faceted offshore logistics concept and will introduce the first purpose-built SOV in 2015.

The teaser film provides a sneak peek of the new SOV and logistics concept. In addition, continual and up-to-date information about the status of the vessel and insights from technicians and Siemens experts can be found on The Energy Blog.
Featured Product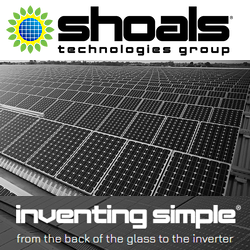 Inventing Simple® isn't just a slogan to us, it's a way of life. Using simple plug-and-play ideology, we revolutionized solar installations in 2003 with our Interconnect System™. Our harnessing system is now the gold standard EPC's use around the world. By using simple ideas, we are making solar energy a more affordable and clean power source for future generations.