"Our carport solution is the first cost effective carport in the industry."
New York – July 18th, 2014 – GameChange Racking today announced that it received an order for the GC Carport System in California to be installed on a large church parking lot. The system was ordered in the standard Y configuration.

The system is a revolutionary solar PV mounting structure for parking lots which combines rugged design, ease of install and low cost for the first time in the industry.
Andrew Worden, CEO of GameChange Racking, stated:
"Our carport solution is the first cost effective carport in the industry. We have opened the way for many applications of solar PV that were previously closed by making carports an affordable reality.
We have carefully prepped our carport debut by undergoing wind tunnel testing with industry leader CPP, making GameChange Carport one of the only wind tunnel tested carports. We provide in-house structural engineering analysis to ensure that our carports and their foundation design are of superior robustness to last the test of time in tough environmental conditions and undergo the high rated wind speed requirements necessary."
GC Carport System features:
*Industry's lowest pricing through superior engineering: starts $0.299/watt (prices vary depending on panel and install size, snow and wind load: see website for details)
*Structural engineering support with complete drawing packages
*Free on-site training and installation supervision
*Offered in 0, 5 and 10°
*Pre-punched mounting holes for inverters, combiner boxes and EV chargers
*Rugged design rated for 120mph wind speed and 60 psf ground snow load
*Wind tunnel tested by industry leader CPP
*Integrated wire management trays
*Integrated grounding with ETL/UL 467 GameChange Grounding Strips
*Warranty 20 years - simply the best in the industry
About GameChange Racking
GameChange Racking LLC provides solar racking systems which combine fast installation, quality and unbeatable value for both ground and rooftop applications. GameChange is based on the concept of simple innovative design and large scale volume manufacturing. All GameChange products are designed and tested to meet rigorous environmental conditions and manufactured in compliance with strict industry standards.
www.gamechangeracking.com
Featured Product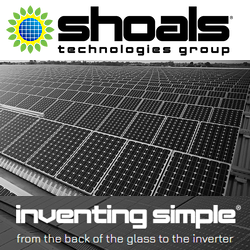 Inventing Simple® isn't just a slogan to us, it's a way of life. Using simple plug-and-play ideology, we revolutionized solar installations in 2003 with our Interconnect System™. Our harnessing system is now the gold standard EPC's use around the world. By using simple ideas, we are making solar energy a more affordable and clean power source for future generations.