A 3 Million euro agreement for the acquisition of the former Helios Technology photovoltaic cell production lines by MegaCell Srl has just been signed. The new bifacial high efficiency solar cell "BiSoN" will be produced by the end of 2014 with an annual capacity of 80 MW in 2015.
The total investment amounts to 10 Million euro.

Italy - Padua, 07/18/2014 – A pool of financial operators led by MedioCredito has just signed an agreement for the transfer of the former Helios Technology photovoltaic cell production lines to MegaCell Srl. The deal is worth 3 million Euro, including facilities and utilities.
MegaCell, a company recently created by Franco Traverso, enters now its operational stage. Traverso is considered the pioneer of Italian photovoltaic cells, for his work both in 1981, when he started Helios Technology Spa (sold in 2008), and in 2007, when he started Silfab Spa, soon followed by Silfab Ontario Inc., a photovoltaic module manufacturing plant (150 MW/y) based in Canada.
Traverso is now ready to invest a total of 10 Million Euro, including 6 Million to convert this historic industrial site located in Carmignano di Brenta (Padua) to the production of the new bifacial cell "BiSoN" (Bifacial Solar n-Type), a high efficiency (already over 20% today) and very competitive monocrystalline silicon n-type cell. This new cell is the result of a series of technological innovations developed and tested by Traverso together with the German Research Institute ISC Konstanz. The bifacial cell produces energy from both its front face and also from its back face, thus greatly increasing the total energy production.
During the next 5 months the revamping and upgrading of the manufacturing lines will be accomplished, in order to start producing BiSoN bifacial high efficiency cells by the end of the year. The start of production is scheduled on January 2015, with an annual capacity of 80 MW and an estimated revenue of 50 Million Euro.
MegaCell has recently appointed the Advisor ( I-cube) to search for investors to become equity partners. On the technical side, Traverso has established an exclusive Team, bringing together some of the best talents in the field. This active group is composed of over ten experts that over the years have acquired high profile skills and reputation in international research and development, as well as business projects - and have worked with Franco Traverso in the past.
"It can be stated – said Traverso - that we are the first in the world to manufacture highly efficient (over 20%) bifacial cells on a large industrial scale. The photovoltaic industry has been waiting for this event for a long time. Overall energy production from bifacial cells and modules is going to grow even over 30%, and the life of modules will extend to 50 years. It is resulting in a drastic cut of the cost per kilowatt hour of PV generated power. Considering these improvements, we expect demand to exceed our production capacity."
Targeted customers of MegaCell will be system developers as well as producers who want to take this opportunity to increase their system's efficiency and profitability.
The work force will include former's Helios Technology employees (the company entered a bankruptcy procedure in May 2013). An agreement has already being reached with the Trade Unions for the re-hiring of about 75 workers.
"I am proud – concluded Traverso – of the creation of this centre of excellence, which will show the way to the entire European photovoltaic industry: it is through innovation that new and sustainable jobs will be created".
-------------------------------------------------------MEGACELL Srl - Via Postumia 9B - 35010 Carmignano di Brenta PD
Tel +39 049 9430926 - Fax +39 049 9431990 - info@megacell.it - www.megacell.it
Featured Product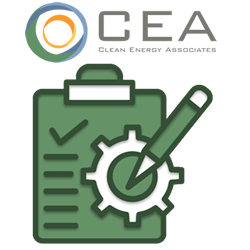 Clean Energy Associates provides a complete quality assurance solution that covers the entire product lifecycle of PV modules, storage systems, and every Balance of Sy stem (BOS) component. CEA's experienced on-the-ground and international team of quality control engineers and account managers offer an unparalleled quality assurance presence that can protect solar and storage investments and ensure future energy-producing viability for the life of the product.