Offshore wind is expected to grow strongly in the next 4 years, report finds
BOULDER, Colo.--Headwinds in several key markets, including the United States and Spain slowed growth in the global wind power market dramatically in 2013. Still, wind power now supplies nearly 3 percent of the world's electricity, and is expected to grow strongly over the next several years. According to a recent report from Navigant Research, wind power will deliver 7.3 percent of the electricity consumed worldwide by 2018.

"Last year was the first in which the wind industry experienced negative growth since 2004, but there are signs that the 2013 slowdown will turn out to be an anomaly," says Feng Zhao, research director with Navigant Research. "As wind turbine vendors search for new opportunities in emerging markets, primarily in Latin America and Africa, and develop machines for maximum energy production in low wind speed areas, the industry is expected to add another 250 gigawatts of capacity through 2018."
Helping to drive that growth will be the offshore market, which saw 13 new projects installed in 2013, adding 1,720 megawatts—a 50 percent increase over 2012 . Nearly half of all new offshore capacity in 2013 was installed in the United Kingdom, according to the report, with all of that capacity supplied by Siemens, the world's largest supplier of offshore turbines.
Navigant Research's BTM Wind Report covers developments in the wind energy sector during 2013. This is the 19th edition of the annual World Market Update. As in previous editions, this report analyzes important changes over the last 3 years and provides a 5-year market forecast, as well as an assessment of likely market progress for the next 5 years. The special theme of this year's report is a review of the Global Onshore Wind Operations and Maintenance Market. An Executive Summary of the report is available for free download on the Navigant Research website.
About Navigant Research
Navigant Research, the dedicated research arm of Navigant, provides market research and benchmarking services for rapidly changing and often highly regulated industries. In the energy sector, Navigant Research focuses on in-depth analysis and reporting about global clean technology markets. The team's research methodology combines supply-side industry analysis, end-user primary research and demand assessment, and deep examination of technology trends to provide a comprehensive view of the Smart Energy, Smart Utilities, Smart Transportation, and Smart Buildings sectors. Additional information about Navigant Research can be found at www.navigantresearch.com.
About Navigant
Navigant is a specialized, global expert services firm dedicated to assisting clients in creating and protecting value in the face of critical business risks and opportunities. Through senior level engagement with clients, Navigant professionals combine technical expertise in Disputes and Investigations, Economics, Financial Advisory and Management Consulting, with business pragmatism in the highly regulated Construction, Energy, Financial Services and Healthcare industries to support clients in addressing their most critical business needs. More information about Navigant can be found at www.navigant.com.
Featured Product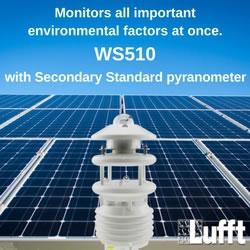 Professional weather sensors form the heart of large solar plants supporting their operation and performance. Lufft was the first manufacturer to combine several sensors in one housing, bringing the largest multiparameter weather sensor family with 19 members into being. Many of them are well-suited for solar site assessment and continuous monitoring. The most commonly used one is the WS600 delivering data on temperature, air pressure, wind, relative humidity and precipitation. Through its open protocol, it can easily be attached to radiation sensors e.g. from Kipp&Zonen. Other models have an integrated Silicon, Second Class or Secondary Standard radiation sensor.