SolarMax welcomes Mark Haug, utility sales manager, to its growing U.S. team.
SolarMax, a Swiss based global pure-play photovoltaic (PV) inverter company with U.S. headquarters in Atlanta, GA, and more than 20 years of PV inverter experience, welcomes Mark Haug, utility sales manager, to its growing U.S. team.

"SolarMax has a stellar reputation in the market for delivering high quality products and excellent customer care," said Mark Haug, utility sales manager, SolarMax. "I wanted to part of organization with such a strong tradition and I look forward to educating large-scale power plants on how they can better compete with conventional power plants."
Haug will be responsible for SolarMax's utility-scale product sales and marketing efforts of the RX A series inverters, specifically developed for large-scale PV power plant requirements. The RX A's high efficiency, availability and serviceability deliver lower lifetime costs, enabling large-scale solar power plants to produce power at competitive prices.
Since 1995, Haug is a power electronic/PV industry when he started with Omnion Power Engineering, which developed the first grid-tied transformerless inverters in the US. Haug comes to SolarMax from Danfoss Solar Inverters, where he served as director of strategic sales and marketing. There, he was responsible for selling Danfoss' utility-scale applications and bringing the company's line of PV string inverters to the U.S. market. Prior to Danfoss, Haug was at The Switch, where he was responsible for PV inverter, PMG generator and full power converter sales. Before The Switch, Haug was at Magnetek, Inc., where he drove worldwide sales and marketing activities for the company's Renewable Energy Division. Other previous positions include Xantrex, Trace Technologies, AEG, Gettys, and Zerand.
"SolarMax continues to expand its U.S. team to support growing sales demands, particular in the utility-scale market," said Alan Beale, general manager, SolarMax USA, Inc "In April we were joined by Walter Marusak and now we're thrilled to have Mark Haug, an industry veteran with nearly 20 years of experience, on board as a strategic asset."
Featured Product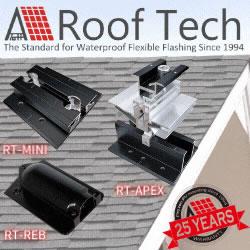 Now Roof Tech brings you the most innovative, watertight mounting systems ever developed for solar photovoltaic systems. Designed and manufactured exclusively for us by Japan's longtime leader in roofing technologies, Roof Tech products are 100% code-compliant and offer fast, simple installation and huge savings on shipping costs due to their compact, rail-less design. Learn more about our full line of versatile PV mounting solutions now available for residential installations. The next generation in rooftop solar mounting solutions."