Xcel Energy Signs 25 Year Agreement to Purchase Electricity at Costs Competitive with Natural Gas
BELMONT, Calif., July 24, 2014 -- SunEdison, Inc. SUNE +0.28% , a leading global solar technology manufacturer and provider of solar energy services, today announced its acquisition of the 156 megawatt (MW) DC Comanche Solar project from renewable energy developer Community Energy. SunEdison is partnering with Community Energy to complete the final development stage of the project by structuring the financing and providing procurement expertise for the project, following which SunEdison will manage the construction, operation, and maintenance of the solar power plant. Construction will begin in 2015 with commercial operation targeted for early 2016. The Comanche Solar project is one of the TerraForm Power call right projects, whereby TerraForm has the option (but not the obligation) to purchase the project from SunEdison once it achieves commercial operation.

Xcel Energy will purchase electricity generated from the solar photovoltaic (PV) power plant under a 25-year power purchase agreement with SunEdison at rates that are competitive with the long-term forecast for natural gas-fired generation.
"This large-scale Comanche Solar generating facility will deliver clean, renewable energy for our customers at a price that is right," said David Eves, president and CEO of Public Service Company of Colorado, an Xcel Energy company. "Solar energy is an increasingly important part of our energy future and it is clear that many of our customers and fellow Colorado citizens share that belief. We want to make sure that solar energy policy encourages the development of solar energy in a transparent and sustainable manner."
"The Comanche Solar project represents a new era for utility scale solar," said Eric Blank, President of Community Energy. "We're pleased to work with industry leaders like SunEdison and Xcel Energy and look forward to bringing this project online."
"Solar energy is now an economical choice for utilities across America," said Bob Powell, president, North America at SunEdison. "SunEdison welcomes the opportunity to work with other project developers across America and together, to show our utility customers how solar energy can serve both the bottom line and their community's desire for clean energy."
The 900-acre solar power plant will be comprised of more than 400,000 SunEdison high efficiency mono-crystalline PV modules. Once operational, the solar power plant will be managed by the SunEdison Renewable Operation Center (ROC), which provides global 24/7 asset management, monitoring and reporting services. Data collected from the ROC is used to continuously improve the company's products, project designs and service offerings.
About SunEdison SunEdison is a global leader in transforming how energy is generated, distributed and owned. SunEdison manufactures solar technology and develops, finances, installs and operates distributed solar power plants, delivering predictably priced electricity and services to its residential, commercial, government and utility customers. SunEdison also provides 24/7 asset management, monitoring and reporting services for hundreds of solar systems worldwide via the company's Renewable Operation Center (ROC). SunEdison has offices in North America, Europe, Latin America, Africa, India and Asia. SunEdison's common stock is listed on the New York Stock Exchange under the symbol "SUNE." To learn more visit www.sunedison.com .
About Community Energy
Since its inception in 1999, Community Energy has led the development and construction of more than 800 MW of wind and solar generating facilities. Community Energy has used a pioneering mix of utility off-take approaches, renewable energy marketing programs, new financing structures, development expertise, and public funding and policy support to accelerate the deployment of renewable energy technologies at scale. With offices in Boulder, Colorado and headquarters in Radnor, PA, Community Energy has a strong presence in both western and eastern renewable energy markets. For more information about Community Energy, please visit www.communityenergysolar.com .
About Xcel Energy
Xcel Energy is a major US electricity and natural gas company with regulated operations in eight Western and Midwestern states. Xcel Energy provides a comprehensive portfolio of energy-related products and services to 3.4 million electricity customers and 1.9 million natural gas customers through its regulated operating companies. For more information about Xcel Energy, please visit www.xcelenergy.com .
Featured Product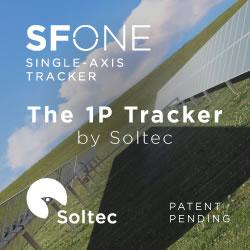 SFOne is the 1P single-axis tracker by Soltec. This tracker combines the mechanical simplicity with the extraordinary expertise of Soltec for more than 18 years. Specially designed for larger 72 an 78 cell modules, this tracker is self-powered thanks to its dedicated module, which results into a lower cost-operational power supply. The SFOne has a 5% less piles than standard competitor, what reduces a 75% the labor time.