Today, solar is the fastest-growing source of renewable energy in America, providing 74 percent of all new electric capacity in the first quarter of this year.
WASHINGTON, DC -

In testimony on Capitol Hill, the Solar Energy Industries Association (SEIA) today supported reforms of the permitting process for energy production on federal lands.
Arthur Haubenstock, who chairs SEIA's Utility-Scale Solar Power Division and is also senior counsel for Perkins Coie LLP, told the Senate Committee on Energy and Natural Resources and the House Natural Resources Committee that it's important to break the logjam of permits pending at the Bureau of Land Management (BLM).
"High-level interagency coordination across federal and state governments, milestone schedules with clear deadlines, corrective action when necessary, high-level accountability and transparency are all necessary elements to permitting success," Haubenstock said in submitted testimony.
"Stable, appropriate policies encouraging solar deployment on federal lands, such as aspects of the Public Land Renewable Energy Development Act of 2013, if properly implemented, the BLM's Solar Energy Program, are also needed to ensure the nation is making the most of its solar prospects," Haubenstock continued. "Permitting improvements for both solar projects and the transmission needed to bring its power to American homes and businesses must be institutionalized if we are to realize solar's potential on public lands."
Today, solar is the fastest-growing source of renewable energy in America, providing 74 percent of all new electric capacity in the first quarter of this year. Utility-scale solar, both photovoltaic (PV) and concentrating solar power (CSP), is helping to drive this enormous growth, with a combined 8,111 megawatts (MW) of installed capacity in the United States. That's enough to power more than 1.6 million American homes.
But this growth is jeopardized, Haubenstock warned, if smart public policies are abandoned. SEIA supports legislation in both the Senate and House, which adopts "commence construction" language this year, allowing project developers to take full advantage of the highly-successful solar Investment Tax Credit (ITC) and giving Americans access to new, affordable and reliable clean energy sources.
"Ensuring a consistent 'commence construction' trigger for clean energy tax incentives is especially urgent for utility-scale solar projects," Haubenstock continued. "Analysis of the dozen largest solar projects expected to be online by 2016 reveals the median time from the early steps of development to commencement of construction is just over three years, and the median time from development to commercial operation is nearly six years. A 'commence construction' standard would ease timing pressures on developers by two years or more, pressures that are building now as the ITC deadline looms at the end of 2016. This tax policy improvement would certainly drive the installation of an additional solar capacity that might otherwise not occur."
Featured Product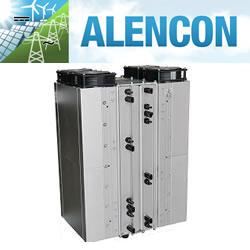 Alencon Systems is the premier manufacturer of high power, high voltage DC:DC optimizers for alternative energy applications including solar, battery energy storage, Microgrids, Fuel Cells and Electric Vehicle charging. Alencon's DC:DC converter offerings include the SPOT, BOSS and CUBE series DC:DC converters. The SPOT is a modular, uni-directional DC:DC solution ideal for solar applications. The BOSS is a modular, bi-directional unit for use with battery energy storage. The CUBE is a monolithic DC:DC converter which is available in both uni-directional and bi-directional modalities. Pictured above, is the Alencon SPOT.