The system will generate power for Southern California Edison's customers, under a long-term power purchase agreement.
SAN JOSE, Calif., July 29, 2014 -- SunPower Corp. (NASDAQ: SPWR) today announced it has started construction on the 135-megawatt Quinto Solar Project in Merced County, Calif. The system will generate power for Southern California Edison's customers, under a long-term power purchase agreement. In accordance with the company's recently announced holdco strategy, SunPower expects to own and operate the solar power plant during construction.

"The advantages of SunPower's technology, combined with our global footprint of more than four gigawatts of operating solar systems, give us confidence to deploy a holdco strategy with regard to Quinto," said SunPower President and CEO Tom Werner. "This strategy allows SunPower to realize the return on investment from the leading power-producing performance of our technology, and reduces the risk to potential buyers if we decide to sell the operational plant."
Including the Quinto power plant, SunPower has more than 500 megawatts of residential, commercial and utility solar assets under contract around the world that it may choose to own for a period of time before a strategic sale or continue ownership post-construction during the operational phase of the project. Under this holdco strategy, SunPower expects to improve project margins and drive higher shareholder returns by capturing the material benefit of its lower system degradation rates, long term project life as well as benefitting from distributions from the project as an equity owner.
SunPower anticipates that about 295 jobs will be created during peak construction of the project, with approximately $80 million in local economic impact. The company estimates that more than $5 million of tax revenues will also be generated as a result of the project. After completion, which is scheduled for late 2015, the Quinto project is expected to generate enough electricity for 40,000 homes.
SunPower is constructing a SunPower® Oasis® Power Plant system at the approximately 1,000- acre site. Oasis is a fully-integrated, modular solar power block that is engineered to rapidly and cost-effectively deploy utility-scale solar projects while optimizing land use.
According to estimates provided by the U.S. Environmental Protection Agency, the completed plant will offset the annual production of almost 134,000 tons of carbon dioxide emissions, which is the equivalent of removing more than half a million cars from California's roads over the next 20 years.
The capacity of the Quinto project discussed in this release is described in approximate megawatts on a direct current (dc) basis.
About SunPower Corp.
SunPower Corp. (NASDAQ: SPWR) designs, manufactures and delivers the highest efficiency, highest reliability solar panels and systems available today. Residential, business, government and utility customers rely on the company's quarter century of experience and guaranteed performance to provide maximum return on investment throughout the life of the solar system. Headquartered in San Jose, Calif., SunPower has offices in North America, Europe, Australia, Africa and Asia. For more information, visit www.sunpower.com.
Featured Product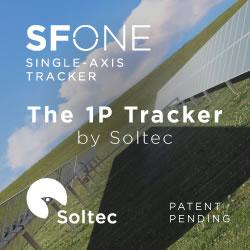 Under the slogan "engineered for greatness", the SF8 tracker aims to revolutionize the photovoltaic market with its new minimum 2x60 configuration and 4 to 6-strings. This tracker is elegantly designed while it reinforces its structure to perform in any terrain. In addition, the SF8 tracker increases the rigidity of its structure by 22% more than the previous generation of Soltec trackers, the SF7. The SF8 is specially designed for larger 72 and 78 cell modules, an increasing market trend.