Clean Energy Collective receives "Industry Advancement" award for its innovative approach to community-owned solar.
BOULDER, COLO. - (July 30, 2014) The Solar Foundation (TSF), an independent nonprofit research and educational organization, has recognized community-owned solar developer Clean Energy Collective (CEC) as a 2014 Solar Foundation Award recipient for exceptional work and dedication to advancing solar energy.

The Solar Foundation awardees were nominated by the public and chosen from five distinct categoriesóincluding Industry Advancement, Individual Achievement, International Programs, Technology Innovation, and K-12 Schoolsóby a committee of leaders from across the solar industry. CEC received the Industry Advancement Award for its innovative approach to community-owned solar.
"We are honored that The Solar Foundation has recognized Clean Energy Collective with its Industry Advancement Award, "said Paul Spencer, founder and CEO of Clean Energy Collective. "We are proud that community-owned solar is able to bring a renewable energy solution to a much broader audience across the county."
Pioneered by CEC, community-owned solar is a distributed generation model that allows any customer in a participating utility territory the opportunity for solar ownership, including renters, those with shady roofs, and residents in multi-unit dwellings. CEC is unique in its embrace of utilities as partners in developing medium-scale PV facilities that are jointly owned by individual ratepayers. Through this utility partnership, community solar customers may purchase as few as one solar panel from the shared array or enough panels to offset their entire electricity needs; they then receive credit for the power produced directly on their monthly bills. CEC is the nation's leading community-owned solar developer, currently serving 18 utilities across eight states.
About Clean Energy Collective (CEC)
Colorado-based Clean Energy Collective is the nation's leading developer of community-owned renewable energy facilities and power generation. CEC established the first community-owned solar garden in the country in 2010 near El Jebel, Colorado. Since that time, CEC has built or has under development 40 community solar projects with 18 utility partners across eight states, representing 26 MW of community solar capacity. www.easycleanenergy.com
About The Solar Foundation
The Solar Foundation (TSF) is an independent national 501(c)(3) nonprofit organization whose mission is to increase understanding of solar energy through strategic research that educates the public and transforms markets. TSF is considered the premier research organization on the solar labor force, employer trends, and the economic impacts of solar. www.thesolarfoundation.org
Featured Product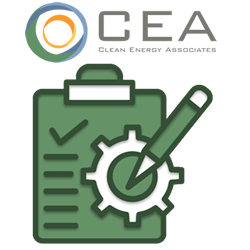 Clean Energy Associates provides a complete quality assurance solution that covers the entire product lifecycle of PV modules, storage systems, and every Balance of Sy stem (BOS) component. CEA's experienced on-the-ground and international team of quality control engineers and account managers offer an unparalleled quality assurance presence that can protect solar and storage investments and ensure future energy-producing viability for the life of the product.