Project Makes Farmers Electric Cooperative #1 in US for Per Capita Solar Generation---- Iowa Deputy Secretary of Agriculture, Retired Air Force General and---- Manager of World Bank's Global Agriculture Practice Participate in Grand Opening
Kalona, IA, July 31— Iowa's largest solar farm is open for business.

Farmers Electric Cooperative cut the ribbon on a new array of 2,900 solar panels capable of generating more than a million kilowatt hours each year.
With its new solar array, the 650-member Farmers Electric Cooperative becomes a national leader in renewable energy. It now is capable of generating up to 1800 watts of solar power per customer, giving it the highest per-capita solar generation rate of any utility in the country.
"The solar farm and our other clean local generation—including geothermal and wind-- is part of our commitment to generate 15 percent of our power locally with renewables by 2025," said Warren McKenna, General Manager/CEO of the Frytown-based co-op. "Generating our own power close to our customers allows us to reduce transmission losses, secure long-term rates, and keep more money local."
Located in Kalona, the array will generate enough energy to power about 120 homes. By displacing energy generated by coal-fired power plants, the farm will avoid about 2.1 million pounds of carbon pollution each year.
"Solar energy works in Iowa—for the same reason Iowa is such a strong agricultural state. We have an excellent solar window," said Barry R. Shear, Eagle Point's President and CEO. "That's the reason the corn and soybeans grow – and it's the same reason why solar is so effective as an energy technology here. We get sunshine."
"When it comes to using that sunshine to generate energy, Washington County is emerging as a leader in Iowa," said Deputy Secretary of Agriculture Michael Naig, who spoke at the plant's opening celebration.
"This is a great example of the opportunity solar energy represents for us here in Iowa," Naig said. "Farmers and others in this part of the state are finding that generating their own solar power helps control costs and secure long-term profitability."
And producing local renewable power has implications far beyond the state's borders, said retired Air Force General Ronald E. Keys, who joined in the opening-day ceremonies on behalf of CNA's Military Advisory Board, a panel of high-ranking retired admirals and generals who study the link between energy, climate change and national security.
"Diversifying our nation's energy mix to include local sources that can never run out is an important element in boosting America's energy independence. It makes us more resilient, and strengthens national security. It makes us less dependent on nations that don't always have our best interests at heart," the retired four-star general said.
The solar array also earned applause from the World Bank, the international financial institution that provides loans, grants, knowledge and technical assistance to developing countries with the goal of ending poverty.
"Agriculture is very sensitive to climate change, yet it is the only sector that can absorb carbon and prevent greenhouse gases from escaping into the atmosphere," said Mark Cackler, Manager in the World Bank's new Global Agriculture Practice, who participated in today's event. "The Farmers Electric Cooperative is a pioneering effort for the goals of growing more food and tapping renewable energy for the benefit of people and the environment.
Other event speakers included Iowa Solar Energy Trade Association president Tim Dwight and Ernie Shea, project coordinator of the 25x'25 Alliance, a diverse national alliance of agricultural, forestry, environmental, conservation and other organizations and businesses that are working collaboratively to advance the goal of securing 25 percent of the nation's energy needs from renewable sources by the year 2025.
Sitting on approximately 4.5 acres of land, Farmers Electric Cooperatives' new solar array took about 3 years of planning and 3 months of construction to complete. Prior to the array's installation, approximately 15% of the co-ops' 650 members were already investing in solar power, indicating strong customer interest in the energy resource.
Featured Product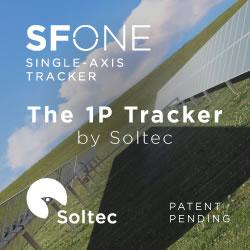 SFOne is the 1P single-axis tracker by Soltec. This tracker combines the mechanical simplicity with the extraordinary expertise of Soltec for more than 18 years. Specially designed for larger 72 an 78 cell modules, this tracker is self-powered thanks to its dedicated module, which results into a lower cost-operational power supply. The SFOne has a 5% less piles than standard competitor, what reduces a 75% the labor time.