Meets Important PV Module Certification Standards----Tested modules pass IEC 61215, 61730 and UL1703 tests; Merlin remains on track for initial shipments in 2014 and commercial release in early 2015
MERRIMACK, N.H., Aug. 11, 2014 -- GT Advanced Technologies

Inc., (Nasdaq:GTAT), today announced that solar modules incorporating its
new Merlin(TM) metallization and interconnect technology have successfully
met the requirements of several important PV industry certification
standards, including IEC 61215, IEC 61730-1 and -2, as well as UL1703. The
certification testing was performed by RETC (Renewable Energy Test Center),
an independent certification testing provider. Conformance to the
certification standards was verified by the Canadian Standards Association
and TUV-Sud. The results confirm that cells and modules incorporating
Merlin's novel approach to metallization and module interconnect meet the
performance, safety and quality requirements outlined by the IEC 61215,
61730-1, -2 and UL1703 tests. The tests are designed to determine long-term
reliability of silicon-based modules.
"Meeting these industry standard reliability criteria is an important
milestone as we move toward commercial availability of our Merlin
metallization and interconnect technology," said Venkatesan Murali, senior
vice president and general manager of advanced systems development at GT.
"Going forward, we plan to continue reliability testing these modules to
failure to validate that the Merlin-based modules are substantially more
robust by design than what is required."
In addition to the silver reduction and efficiency improvement at the module
level, Merlin metallization and interconnect technology improves the
reliability and durability of modules. Merlin allows panel manufacturers to
offer custom solar module form factors in addition to their traditional
offerings. These new offerings are expected to play a role in improving
costs across the solar value chain.
"We are in active discussions with select lead customers who continue to
validate the unique value proposition of Merlin as it is substantially
differentiated from the traditional three busbar-based modules as well as
the various flavors of multi-wire busbar solutions,"
continued Murali. "Our comprehensive testing of Merlin goes beyond what is
traditionally required for such a product. We are taking this approach in
order to ensure a smooth and seamless integration into our customers'
manufacturing lines when we roll this out in 2015."
The company estimates that if Merlin achieved a market penetration in the
eight to twenty percent range by 2018 it could represent a $400 million to
$1 billion business. The company has already begun shipping sample
quantities of Merlin grids to its lead customers and remains on track to
commercially release Merlin in early 2015.
IEC 61215 and 61730-1, -2 and UL1703 standards have been established to
determine the viability of module designs as an indicator of their long-term
performance in the field. The tests have been designed to simulate and
accelerate real-world conditions that modules will undergo over the lifetime
of the module when installed in the field. The tests focus on key areas such
as diagnostic, electrical, performance, thermal, irradiance, environmental,
mechanical and safety tests.
About GT Advanced Technologies Inc.
GT Advanced Technologies Inc. is a leading diversified technology company
producing advanced materials and innovative crystal growth equipment for the
global consumer electronics, power electronics, solar and LED industries.
Its technical innovations accelerate the use of advanced materials, enabling
a new generation of products across this diversified set of global markets.
For additional information about GT Advanced Technologies, please visit
www.gtat.com.
Featured Product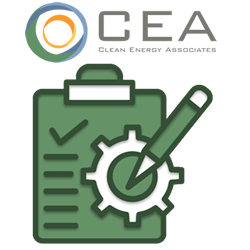 Clean Energy Associates provides a complete quality assurance solution that covers the entire product lifecycle of PV modules, storage systems, and every Balance of Sy stem (BOS) component. CEA's experienced on-the-ground and international team of quality control engineers and account managers offer an unparalleled quality assurance presence that can protect solar and storage investments and ensure future energy-producing viability for the life of the product.