Developing & Delivering Geothermal Power Projects, Singapore, Monday 01st - Wednesday 03rd September 2014
This course gives you an introduction to developing geothermal power projects. Covering geothermal exploration and development through to project execution and financial planning.

Please visit our website for more information on this course and all of our other courses.
Featured Product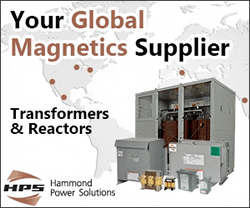 HPS is the largest manufacturer of dry-type transformers in North America. We engineer and manufacture a wide range of standard and custom transformers that are exported globally in electrical equipment and systems. We support solid industries such as oil and gas, mining, steel, waste and water treatment, and wind power generation. HPS leads the industry in these markets through its technical design strength, breadth of product, and manufacturing capabilities, making HPS a stronger company both fundamentally and financially.