Cooperation between the two countries –which are among the most important CSP investors-, is booming. By way of example: a memorandum of understanding was signed between the King Abdullah City for Atomic and Renewable Energy (K.A.CARE) and the Chinese National Nuclear Corporation (CNNC), in Beijing.
Its main goal is to increase cooperation to further develop the renewable energy industry in the two countries. Saudi Arabia, with a CSP target of 25 GW by 2032, is working towards that goal, whereas China, with a CSP target of 3GW by 2020, is also showing signs of progress.

CSP Today Seville 2014, to be held on 12th and 13th November 2014, will bring together key Chinese and Saudi Arabian players. One of the most high profile will definitely be Paddy Padmanathan, President and CEO of Saudi Arabian developer ACWA Power, who will be keynoting at the conference.
China will be represented by coffee break sponsor Rayspower, which recently won a landmark contract to supply mirrors in China. It will be joined by manufacturing giant Huiyin Group, which will be discussing LCOE reductions during the conference.
The event will feature presentations on how to break into the Chinese and Saudi Arabian markets. Attendees will have the opportunity to hear from speakers such as Michael Geyer, Director for International Business Development Europe, Africa, Middle East at Abengoa Solar, and have his insights on CSP international development.
The 8th International Concentrated Solar Thermal Power Summit, CSP Today Seville 2014, will be featuring the top Spanish and international CSP experts, from companies such as: Aalborg CSP, Abengoa, Acciona, ACS, ACWA Power, Cobra Energía, Hyra Group, Magtel, Nest, Sener, TSK, Csiro, Huiyin Group, RioGlass and more.
To find out more about the conference please visit: www.csptoday.com/csp
Featured Product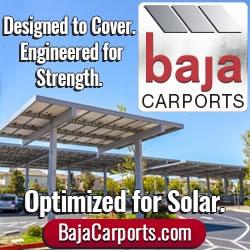 Baja Carports offers an extensive solar support system product line customized to customers' site specifications by in-house engineers, meeting their parking lot coverage, plus optimal PV production needs. Baja's Full Cantilever Tee is often paired with its Semi and Full Cantilever carports to meet live/loads up to 60psf and wind speeds to 160mph. All Baja products are pre-fabricated, bolted connections, pre-galvanized structural steel for fast on-site installation and project aesthetic requirements."