argeted Rail Sizes Enable More Cost-Effective Solar Array Design & Installation
Hayward, CA - IronRidge, Inc., a manufacturer of solar mounting products, announced the expansion of its XR Rail Family to include three new rail sizes, all featuring the company's signature curved profile. The company reports that the new offering empowers solar designers to improve solar mounting system performance while reducing cost by as much as 15-20%.

In addition, the company announced significant updates to its XR Rail accessories and peripherals, including Slotted L-Feet and T-bolt Grounding Lugs, as well as an upgrade of its web-based Design Assistant software.
XR Rail family
Replacing the current XRS and XRL rails, the new XR Rail Family consists of three rail sizes: XR10, XR100 and XR1000. All three rails feature the unique curved profile shape that was first introduced with the XRS in 2008. This shape increases resistance to vertical and lateral forces, such as wind and snow, ensuring better performance and security during extreme weather.
By offering this shape in three rail sizes, the XR Rail Family empowers solar designers to improve structural performance while reducing material cost. In many situations, the new sizes enable mounting system cost reductions of 15 to 20% compared to their predecessors, XRS and XRL, according to IronRidge.
The curved shape also improves spanning capability compared to traditional "box-shaped" rails, resulting in fewer roof attachments per rail. According to the Rocky Mountain Institute, roof attachments are one of the most labor-intensive parts of rooftop solar installation, so reducing the number of attachments can save both time and material.
All of the new rails support IronRidge's patented Internal Splice, which provides superior structural strength while avoiding any interference with the L-foot slot. In addition, IronRidge released new End Caps for each rail that feature a convenient "snap-in" design and sleek beveled edges.
All three XR Rails and their accessories have been tested and certified to UL2703.
Rail peripherals
Complementing the new rails, IronRidge also introduced two new peripherals: Slotted L-Feet and T-bolt Grounding Lugs.
The new Slotted L-Feet feature a heavy-duty profile and serrated face to ensure a secure, high-friction connection to the rail. In addition, its slotted top allows XR Rails to be dropped-in and fastened in a matter of seconds.
The new T-bolt Grounding Lug mounts in the top slot of the rail in any direction, and forms a bond simply by tightening the nut and washer. This eliminates the need for "lay-in" lugs, which require pre-drilling of the rail, or WEEB lugs, which use proprietary bonding washers.
The new T-bolt Grounding Lug is certified to UL2307 as part of the IronRidge system.
Design Assistant software
Design Assistant, IronRidge's free web-based design tool, is now upgraded to support the new products. In addition, Design Assistant started using ASCE 7-10 methodology for its structural calculations.
Featured Product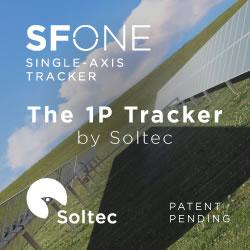 SFOne is the 1P single-axis tracker by Soltec. This tracker combines the mechanical simplicity with the extraordinary expertise of Soltec for more than 18 years. Specially designed for larger 72 an 78 cell modules, this tracker is self-powered thanks to its dedicated module, which results into a lower cost-operational power supply. The SFOne has a 5% less piles than standard competitor, what reduces a 75% the labor time.