In light of the inaugural Beijing Formula E Grand Prix, scheduled for September 13, 2014, Bryan Solstin at Solstin.org comments on industry trends, saying Formula 1 and Formula E are paving the way for the next-generation supercar. Solstin says emerging supercapacitors and high-power wireless will be the next generation supercar.
Seattle, Washington August 19, 2014

In Beijing, on Sept 13, 2014, Formula E will demonstrate EVs with no internal combustion engine. According to Bryan Solstin of the electrification consulting firm Solstin.org, the fusion of supercapacitors and wireless power is a simple architecture and could be the next supercar. Even more electrifying, Solstin says the economy of scale should trickle down to every EV.
Solstin says Formula 1 and Formula E are accelerating Electric Vehicle (EV) development. The Formula 1 "energy store" could be the most interesting component. Formula 1 and Formula E both share a common interest in ultra-fast power storage from regenerative breaking. The competitive solutions will branch into Wireless EV technology, says Solstin.
According to industry trends, tomorrow's road transportation will be electric. No air-pollution, less noise, fewer moving parts, less maintenance, smoother, clean and green. Electrification of roads and vehicles is the next megatrend.
According to Solstin's Law, Solar Photovoltaic (PV) has been dropping about 15% per year ($/Watt) since 1955, and as the industry approaches coal-based "parity," the price-drop seems to be accelerating. The U.S. Department of Energy's SunShot Initiative has set the goal of $1/Watt (installed) by 2020. It seems the goal will be achieved before 2020. Once clean, cheap, PV-power is broadly available, the next challenge will be: storage and distribution innovation.
For storage innovation, the supercapacitors have:
*Ultra-fast charge rates (i.e. claimed to fully charge in 16 seconds without overheating)
*Ultra-fast discharge rates
*Excellent stability
*Long lifecycle (replacement unlikely during the life of the vehicle)
Supercapacitor energy density has been improving faster than batteries. Energy-density (Watt-time/mass) reported from current research.
The lead-acid battery specific-energy density is 35 Watt-hr/Kg. At Monash University, Professor Dan Li claims a new low cost supercapacitor has about 35 Watt-hr/Kg.
At University of California, Riverside, Wei Wang claims their prototypical supercapacitor has 39.2 Watt-hr/Kg.
At Gwangju Institute of Science and Technology, Santhakumar Kannappan claims their Supercapacitor has 64 Watt-hr/Kg.
Supercapacitor density should continue to improve, says Sosltin. Supercapacitors are already a game changer because they do not overheat during high-power charging. Performance is extraordinary for regenerative breaking and excellent torque for engine start-stop. Wireless power distribution is also a significant beneficiary. In parallel to storage, distribution innovation is a growing need, says Solstin. Wireless has the potential for fulfilling that need with utility-scale distribution capability.
Instead of drivers switching EVs halfway through the Formula E race, wireless could deliver power from the road or pit stop. No charging stations, no switching cars half way through the race. Once wireless high-power transfer is supercar proven, the technology could trickle down to the common EV. Electrification of roads and wireless power transfer is the next megatrend.
Bryan is attending the Formula E race in Beijing and is available for media consultations. For more information, contact Bryan.Solstin at Solstin.org
Featured Product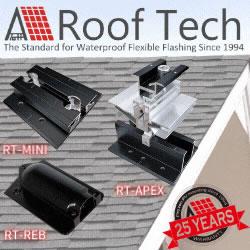 Now Roof Tech brings you the most innovative, watertight mounting systems ever developed for solar photovoltaic systems. Designed and manufactured exclusively for us by Japan's longtime leader in roofing technologies, Roof Tech products are 100% code-compliant and offer fast, simple installation and huge savings on shipping costs due to their compact, rail-less design. Learn more about our full line of versatile PV mounting solutions now available for residential installations. The next generation in rooftop solar mounting solutions."