Coveted Frost & Sullivan Award Latest in Series of Wins for Global Flow Battery Company
Columbia Falls, MT – Aug 19, 2014 – Today ViZn Energy Systems, Inc., a pioneer in large-scale energy storage technology, announces it has been selected as a recipient of Frost & Sullivan's Entrepreneurial Company of the Year Award in the Energy Storage Industry category for 2014.

"The growing concern over environmentally friendly solutions has contributed significantly to the increasing demand for green technologies, fueling the need for renewable energy," said Vishal Sapru, Research Manager at Frost & Sullivan. "Solutions like ViZn Energy Systems' that are efficient, cost-effective, and proficient in optimum energy storage with minimal energy loss are quite essential."
After a team of Frost & Sullivan analysts and industry experts evaluated the top energy storage companies, ViZn was found to be superior in two critical areas: Customer Value Excellence and Entrepreneurial Spirit. "We were searching for companies that not only had a vision for a high-quality customer experience, but used those insights to achieve growth above the industry average," added Sapru. "For this reason, we have evaluated ViZn Energy Systems as potentially being a strong competitor in the high-growth energy storage industry."
ViZn's Zinc Redox Flow Battery is one of the most cost-effective, scalable and safe energy flow batteries on the market. With systems already in the field for testing, ViZn's patented technology is positioned to break the cost/benefit threshold that has limited widespread adoption.
"We are honored to be singled out for our product value and strong entrepreneurial spirit that set us apart in the storage segment," said Ron Van Dell, CEO of ViZn Energy Systems. "We'd like to thank Frost & Sullivan for this award and for recognizing the visionary leadership and best-in-class influence ViZn Energy will have on our industry and the environment."
About ViZn Energy Systems, Inc.
ViZn Energy Systems, Inc., is comprised of a visionary team of scientists, engineers and business leaders that are passionate about creating and commercializing a revolutionary energy storage solution for the micro grid market. Founded in 2009 and based on eight previous years of research, ViZn is commercializing energy storage systems for mega-watt applications. The ViZn solution is safe, reliable, cost effective, and scalable to meet the needs of today's ever-changing energy landscape.
About Frost & Sullivan
Frost & Sullivan, the Growth Partnership Company, enables clients to accelerate growth and achieve best in class positions in growth, innovation and leadership. The company's Growth Partnership Service provides the CEO and the CEO's Growth Team with disciplined research and best practice models to drive the generation, evaluation and implementation of powerful growth strategies. Frost & Sullivan leverages almost 50 years of experience in partnering with Global 1000 companies, emerging businesses and the investment community from 31 offices on six continents. To join our Growth Partnership, please visit http://www.frost.com.
Featured Product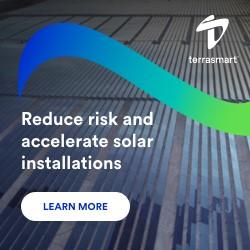 The first and only single axis tracker that allows you to turn unusable land into valuable assets. Built tough for reliable performance, TerraTrak will maximize energy output and returns conquering the most challenging sites. Employ PV where you never thought possible through durable mechanics and intelligent control technology.