The expansion of renewable energy and distributed energy production is also driving the development of stationary battery energy storage systems. TÜV SÜD's new Renewable Energy Storage Systems (RESS) certificate enables stakeholders to demonstrate the safety and performance of these systems.
"The global market for stationary battery energy storage systems is very dynamic", says Johannes Brey, Managing Director of TÜV SÜD Battery Testing GmbH. "While a host of different systems are available on the market, reliable assessment of their efficiency and effectiveness is impossible at present because there is not enough data."

To provide reliable information on the safety, performance and service life of stationary energy storage systems, TÜV SÜD has now developed a new certificate for renewable energy storage systems (RESS) and has already completed successful certification of the first products.
Certification is based on a comprehensive test standard that considers the requirements of all relevant standards applicable to stationary energy storage systems and their individual components, including IEC 62619, IEC 60068, IEC 62109-1, IEC 62109-2 and VDE-AR N 4105 or IEC 62477-1.
The test standard includes checks of the mechanical, electrical and software-related design of the storage system, safety and environmental tests on the batteries, inverter tests for safety and network compliance, review of the product documentation for completeness and plausibility, and on-site inspection of ongoing large-scale production at the manufacturer's premises.
"Of course, within the scope of RESS certification we not only test the individual components, but also scrutinise the reliability of their interaction within the energy storage system", emphasises Andreas Faißt, TÜV SÜD Product Service GmbH. "Our certification provides enhanced transparency in a very exciting high-growth market." This concerns both manufacturers – who can use the certificate to demonstrate the safety and performance of their products – and retailers, installation companies and consumers, who can rely on the certificate for valuable guidance and support in their decision-making processes.
Featured Product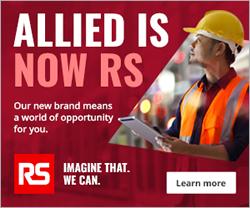 Moxa is a leader in edge connectivity, industrial computing, and network infrastructure solutions for enabling connectivity for the Industrial Internet of Things. With over 30 years of industry experience and 65 million devices connected worldwide, Moxa has a distribution and service network to serve customers in more than 80 countries. Now at Allied-find over 1,000 products from Ethernet switches, protocol converters, routers, and more. Allied Electronics & Automation, part of RS Group & Automation, part of RS Group is an authorized distributor of Moxa.