Deployment of the first twenty (20) Ballard methanol-fuelled ElectraGen™-ME backup power systems has been completed with Globe Telecom.
MANILA, PHILIPPINES – Deployment of the first twenty (20) Ballard methanol-fuelled ElectraGen™-ME backup power systems has been completed with Globe Telecom, a major provider of telecommunications services in the Philippines – with 45 million mobile customers – and a member of the SingTel Group, Asia's leading communications organization.

Ballard's methanol-fuelled ElectraGen™-ME backup power systems have been installed on rooftop locations in Manila by our channel partner – AECi – providing a cost-effective alternative to batteries and diesel generators.
ElectraGen™-ME systems are quiet, lightweight, reliable and are fuelled by HydroPlus™, a mixture of methanol and water that can be readily hand-carried to rooftop sites for refueling purposes. Each system includes a 225 liter (60 gallon) fuel tank and fuel processor, enabling approximately 100 hours of extended runtime, subject to load requirement.
A major concern in the Philippines is the devastating impact that frequent typhoons can have on the country's grid infrastructure. Indeed, delivery and installation of these first ElectraGen™ systems had been delayed due to Typhoon Haiyan, the deadliest typhoon on record in the Philippines, which hit landfall in November 2013. That destructive storm underscored the need for reliable, extended runtime backup power systems that can ensure continuity of wireless communication services during and after severe weather events.
By the time Typhoon Rammasun hit the Philippines in July 2014, with very strong winds of up to 185 km/h (115 mph), almost all twenty ElectraGenTM-ME systems had been installed. Typhoon Rammasun took down the power grid and forced thousands of people to evacuate their homes. However, the ElectraGen systems were able to seamlessly provide electricity to those Globe Telecom wireless base stations that had lost grid power, thereby maintaining continuity of wireless service to Globe subscribers when they needed it most!
Events such as Typhoon Rammasun clearly demonstrate the value of fuel cell systems in maintaining telecom network availability in situations where the electric grid is vulnerable to outages. This is generating growing interest in highly reliable fuel cell solutions for networks in Southeast Asia and elsewhere around the world.
Abbout Ballard Power Systems
Ballard Power Systems (NASDAQ: BLDP) (TSX: BLD) provides clean energy fuel cell products enabling optimized power systems for a range of applications. Products deliver incomparable performance, durability and versatility. To learn more about Ballard, please visit www.ballard.com.
Featured Product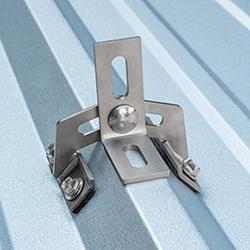 They have been changing the game for 10 years with their original Top Mount line for Asphalt Shingle roofs, and by now supplying one of the widest ranges of solar mounts in North America. From their patented products, to the custom production services they offer, QuickBOLT has been working with solar installers for nearly a decade to make solar installations easier than ever before.