During its first year in operation, the $0-down solar system at Uesugi Farms has generated significant capital.
GILROY, Calif., Aug. 26, 2014 -- In February 2013, Vista Solar installed a 792kW solar system on a block of fallow, unusable land at Uesugi Farms. In the first year of operation, the solar system generated over $100,000 in savings and has offset the farm's electric bill by more than 90%.

The savings generated has freed up funds for several organizational investments. "Just in the first year alone, we've saved about $115,000," says Uesugi Farms owner and general manager Pete Aiello. "With the savings, we've been able to increase our cooling operation, purchase an ice injector, make a few additions to our packing facility, and purchase a couple pieces of equipment including a large forklift."
With a $0 down operating lease, the system at Uesugi Farms was cash-flow positive from day one, and is projected to generate more than $2.6 million in savings over the next 25 years.
"Vista Solar did an excellent job helping us turn a business liability into an asset," said Aiello. "Not only did they provide professionalism and expertise in designing and installing the system, but they excelled in all the aspects surrounding it, including obtaining the financing and educating our staff about solar."
With a low base flood elevation, the fallow parcel of farmland had been prone to flooding, making it nearly impossible to grow crops. Vista Solar designed and installed a system that transformed the unusable land into a solar power plant. Elevated six feet off the ground to avoid flood damage, the system, comprised of Canadian Solar panels and Refusol string inverters mounted on a Solar FlexRack substructure, is capable of producing more than 1.25 million kilowatt hours of solar energy annually, enough to power more than 100 homes.
"Forward-thinking businesses like Uesugi Farms are motivated by the significant savings that solar can provide for their bottom line, but at the end of the day, they often have several other mission-critical places where their capital is needed," said Vista Solar President Jaymes Callinan. "Being able to provide a way to start saving with solar right away while preserving precious capital and lines of credit is one of the things that makes this project and Vista Solar so unique."
Watch this brief video of Uesugi Farms owner, Pete Aiello, discussing the savings and benefits of going solar.
About Vista Solar Inc.
Vista Solar is an award-winning solar design and installation firm serving the commercial and agricultural markets throughout California. Vista Solar offers $0-down financing solutions that allow organizations and businesses to save money on their utility bills without any capital outlay. Vista Solar is driven by the fundamental principle that the job isn't complete until each customer is reference-able. Additional information about Vista Solar can be found online at: www.vista-solar.com.
About Uesugi Farms
Uesugi Farms was founded in Morgan Hill, CA in 1979 by Joe Aiello and Dennis Humphreys, and is a fully integrated grower/packer/shipper of fresh fruits & vegetables. Joe is still running the company today with the help of his son, Pete. The company currently operates on approximately 4,000 acres in California, 50 acres in Arizona and 1,000 acres in Mexico. Uesugi's list of commodities includes bell peppers, chile peppers, sweet corn, Napa cabbage, pumpkins, strawberries, cherries and beans. In addition to their fruit & vegetable operation, they also operate a retail produce store at their headquarters in Gilroy and a pumpkin patch in Morgan Hill. Additional information about Uesugi Farms can be found online at: http://www.uesugifarms.com
Featured Product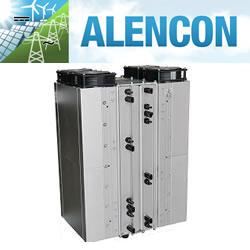 Alencon Systems is the premier manufacturer of high power, high voltage DC:DC optimizers for alternative energy applications including solar, battery energy storage, Microgrids, Fuel Cells and Electric Vehicle charging. Alencon's DC:DC converter offerings include the SPOT, BOSS and CUBE series DC:DC converters. The SPOT is a modular, uni-directional DC:DC solution ideal for solar applications. The BOSS is a modular, bi-directional unit for use with battery energy storage. The CUBE is a monolithic DC:DC converter which is available in both uni-directional and bi-directional modalities. Pictured above, is the Alencon SPOT.