EVT Provides Integrators, Utilities with Smaller Footprint, Lower-Weight Solution for Compact Substations
SAN DIEGO, Aug. 26, 2014 -- Maxwell Technologies, Inc. (NASDAQ: MXWL), a leading developer and manufacturer of ultracapacitor and high-voltage equipment, announced its new Electronic Voltage Transformer (EVT) for smart grid applications that range from 110 kV to 550 kV. The EVT is the latest addition to Maxwell's CONDIS® family of high-voltage capacitors and capacitive dividers, and is used for digital current and voltage monitoring in smart grids to guarantee measurement accuracy of the grid. The EVT can replace the traditional capacitive voltage transformer (CVT), and is about one-third the size and weight.

GTM Research forecasts the cumulative value of the smart grid market to surpass $400 billion by 2020. As the smart grid market grows, there are more automated substations that require accurate current and voltage monitoring. The Maxwell EVT's low voltage output and high temperature stability are key factors in improving measurement accuracy, while its lighter and slimmer size, as compared to the CVT, allows integrators and utilities to save a considerable footprint in each substation that is operated.
This next-generation high voltage capacitor divider was developed in conjunction with select Maxwell customers. It is characterized by a low voltage output at 100V, with a simple connection that permits direct digital treatment of the signal, high stability over a broad temperature range and optimal performances with an increased frequency bandwidth.
"Substation owners have relied on large CVTs for the past 60 years, and they can now look forward to a modernized, compact solution that more accurately monitors and measures digital current and voltage," said Sacha Jenny, general manager, Maxwell SA and vice president of high tension. "The EVT helps meet the needs of the growing number of automated substations to ultimately improve grid efficiency, and will also help Maxwell increase its customer traction in the electric utility market."
With this new product, Maxwell Technologies expands its portfolio of capacitive and resistive-capacitive dividers for monitoring and measurement of medium voltages (10 kV to 50KV) and high voltages (50 kV to 1200KV).
Additional Maxwell Technologies information:
*Maxwell Technologies on Twitter: https://twitter.com/Maxwell_Tech
*Maxwell Technologies on Facebook: http://on.fb.me/10e2nPA
*Maxwell Technologies on LinkedIn: http://linkd.in/Z4737Y
About Maxwell Technologies:
Maxwell is a leading developer and manufacturer of innovative, cost-effective energy storage and power delivery solutions. Our ultracapacitor products provide safe and reliable power solutions for applications in consumer and industrial electronics, transportation and information technology. Our CONDIS® high-voltage grading and coupling capacitors help to ensure the safety and reliability of electric utility infrastructure and other applications involving transport, distribution and measurement of high-voltage electrical energy. Our radiation-mitigated microelectronic products include power modules, memory modules and single board computers that incorporate powerful commercial silicon for superior performance and high reliability in aerospace applications. For more information, please visit www.maxwell.com.
Featured Product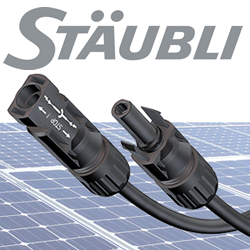 ​Stäubli Electrical Connectors are used on more than 300 GW, over 50% of the PV capacity worldwide. The MC4 family of UL and TUV listed products include connectors, in-line fuses, branch connectors, cable assembly and more.