Leaders in alternative energy and other industries are utilizing geoAMPS products and services that create efficiencies in project management and organizational processes. Only in its third year, geoAMPS' client list is growing.
geoAMPS software has been utilized by the company's clients in alternative energy and other industries for more than 5,300 projects. Located in the Columbus, OH, area, geoAMPS is in its third year of operation, specializing in software solutions to manage land rights and infrastructure assets.

geoAMPS offers 11 software products, each designed to meet the needs of a specific industry. There are software products for alternative energy, land services, land reclamation, oil and natural gas, road transportation, rail transportation, surveying, GIS, telecommunications, government assets and project management, and document processing.
The company's growing list of clients includes companies in Canada and the United States that are leaders in their respective industry. Its customers include clients that operate wind farms in several states in the United States and provinces of Canada. geoAMPS configures its products for each client.
"I am pleased that our customers are finding that, by utilizing our software, they can realize substantial savings through project efficiencies," Yogesh Khandelwal, President and Chief Executive Officer of geoAMPS, said. "It is rewarding that our software has been used for so many projects in such a short period of time.
"geoAMPS provides a single solution that can manage all types of projects, such as right-of-way, oil and natural gas exploration and production, and renewable energy. Our best-in-class service includes outstanding product support."
Operating through a centralized Web database of project and organization information, the software automates many of the necessary tasks involved in developing and operating projects. Clients can utilize mobile, offline/detached and GIS capabilities. These capabilities, combined with the dashboard interface operated through the Web platform, reduce project costs through process standardization and improved efficiency.
"geoAMPS' configurable framework allows organizations to quickly adapt to the changing landscape within all phases of their infrastructure projects," Khandelwal explained. "Our unique approach and focused processes enable implementations that are right-sized in scope, cost and timelines, making geoAMPS the right solution for an organization's projects."
For more information, call 614-389-4871 or visit www.geoamps.com. Check out the new Canadian version of the geoAMPS website: www.geoamps.ca.
Featured Product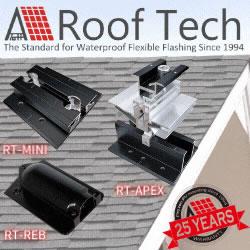 Now Roof Tech brings you the most innovative, watertight mounting systems ever developed for solar photovoltaic systems. Designed and manufactured exclusively for us by Japan's longtime leader in roofing technologies, Roof Tech products are 100% code-compliant and offer fast, simple installation and huge savings on shipping costs due to their compact, rail-less design. Learn more about our full line of versatile PV mounting solutions now available for residential installations. The next generation in rooftop solar mounting solutions."