Email catalog@backwoodssolar.com for your free copy of our planning guide and catalog.
Want to be energy independent? Want to make sure your food doesn't go bad in a power outtage? Whatever your reason for going with solar, wind, or micro-hydro energy systems we support you. If you are not sure where to start...start by requesting our planning guide and catalog. In it you will find everything to plan the system you need. Our sales technicians live in homes powered by solar, wind, and water with the components they sell. For over 35 years we have provided excellent service, system design, and quality products. We live what we sell. Contact us anytime.

Backwoods Solar
1589 Rapid Lightning Road
Sandpoint, ID 83864
(208)263-4290 or (888) 970-3742
Request a catalog at: catalog@backwoodssolar.com
Featured Product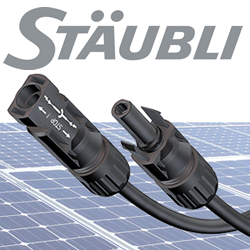 ​Stäubli Electrical Connectors are used on more than 300 GW, over 50% of the PV capacity worldwide. The MC4 family of UL and TUV listed products include connectors, in-line fuses, branch connectors, cable assembly and more.