Renewables on par with electricity from gas---- Solar technology as the chief power source to be---- Geopolitical developments renew focus on change of energy system
Munich, 08 September 2014 – The 29th edition of the European Photovoltaic Solar Energy Conference and Exhibition (EU PVSEC 2014) will open its doors from Monday, 22 to Friday, 26 September 2014 at RAI Convention and Exhibition Centre in Amsterdam, the Netherlands. The five-day Conference is complemented by the three-day Exhibition, held from Tuesday, 23 to Thursday, 25 September 2014.

The EU PVSEC 2014 takes place in a time when renewable energies and photovoltaics in particular generate headlines on an almost daily rate.
"Policy uncertainty threatens to slow Renewable Energy momentum" announces the International Energy Agency, IEA, on 28 August 2014. The press release refers to IEA's third annual Medium-Term Renewable Energy Market Report and states that "according to the report, power generation from renewable sources such as wind, solar and hydro grew strongly in 2013, reaching almost 22% of global generation, and was on par with electricity from gas, whose generation remained relatively stable". The paper continues: "Global renewable generation is seen rising by 45% and making up nearly 26% of global electricity generation by 2020".
PV Magazine headlines on the same 28 August 2014: "World's largest private bank predicts solar-led power revolution" and starts: "UBS Bank believes large-scale power stations will be redundant within 10–20 years, with solar technology taking their place as chief power source".
The European Photovoltaic Industry Association, EPIA, announces on 03 September 2014: "European Council calls for 30% Renewables target by 2013". The press release continues: "The European Council has called for a more ambitious target for renewables in Europe by 2030, but fails short of introducing binding national targets".
These messages, published within only a few days, represent a good and sometimes contradicting snapshot of the dynamic state, in which renewables move ahead these days. Teun P. Bokhoven, General Chair of the EU PVSEC 2014 and President of the Dutch Renewable Energy Federation: "After a difficult period in the global PV markets over the past few years, we may expect a strong revival in the coming period". Bokhoven continues: "This implies a huge challenge for the photovoltaic community. Expectations are high". He outlines the mandate for this upcoming EU PVSEC 2014 in Amsterdam: "Whether it will be technical innovations, new materials and concepts or aspects of integrating PV in our energy systems, all is needed to facilitate the expanding global PV market and make sure we fulfil these expectations".
With 1.500 contributions from 71 countries, presented in 87 conference sessions and covering the entire PV value chain, the EU PVSEC 2014 takes up the challenge and outlines the opportunities. The Conference Programme is complemented with nine Parallel Events that present around 100 additional contributions. They are jointly organized with major international organisations and offer a deep insight into specific topics along the most recent technology, market and business trends. The EU PVSEC Industry Exhibition provides first hand opportunities to meet with the global innovators in these challenging times full of new opportunities.
As the opening of the EU PVSEC 2014 gets closer now, and with the busy last third of 2014 taking full swing, Teun Bokhoven reminds about the urgency of the mission: "The current geopolitical conditions and developments do renew our focus on the need to speed up the transformation of our energy system to become renewable energy based."
Background EU PVSEC
For many years, the European Photovoltaic Solar Energy Conference and Exhibition (EU PVSEC) has combined a renowned international scientific Conference with a leading PV Industry Exhibition and trade fair. During five Conference and three Trade Fair days, new products and technical innovations from all areas of photovoltaics and from all over the world are on show.
The EU PVSEC is supported by European and international organisations such as the European Commission, UNESCO – United Nations Educational, Scientific and Cultural Organization, Natural Sciences Sector, WCRE – World Council for Renewable Energy, EPIA – European Photovoltaic Industry Association, IPVEA – International Photovoltaic Equipment Association, ESA – European Space Agency, EREF – European Renewable Energies Federation, EUFORES – European Forum for Renewable Energy Sources, EU PV TP – European Photovoltaic Technology Platform, ARE – Alliance for Rural Electrification, AIE – European Association of Electrical Contractor, CABA – Continental Automated Buildings Association, EPIC – European Photonics Industry Consortium, SASIA – Saudi Arabia Solar Industries Association.
The Conference Programme is coordinated by the European Commission, DG Joint Research Centre.
For further information please visit: www.photovoltaic-conference.com / www.photovoltaic-exhibition.com
Featured Product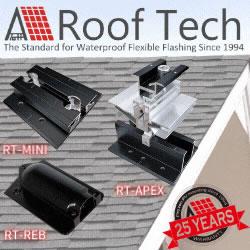 Now Roof Tech brings you the most innovative, watertight mounting systems ever developed for solar photovoltaic systems. Designed and manufactured exclusively for us by Japan's longtime leader in roofing technologies, Roof Tech products are 100% code-compliant and offer fast, simple installation and huge savings on shipping costs due to their compact, rail-less design. Learn more about our full line of versatile PV mounting solutions now available for residential installations. The next generation in rooftop solar mounting solutions."