New Locations in Arizona, California, Delaware, Maryland, Massachusetts, Nevada and New York Expected to Create More Than 600 New Jobs
SAN MATEO, Calif., Sept. 4, 2014 -- SolarCity

(Nasdaq:SCTY), the nation's #1 solar power provider and largest solar
employer, is expanding again. Following a quarter in which it more than
tripled the number of new customers it added as compared to the same period
the prior year, SolarCity plans to open 20 new operations centers in seven
states . The new regional operations centers are expected to create more
than 600 additional jobs in Arizona, California, Delaware, Maryland,
Massachusetts, Nevada and New York. The new locations will reduce operations
costs by decreasing service and installation drive times, and will
contribute to state and local economies by creating new jobs in a range of
disciplines. SolarCity expects to open new operations centers in the
following areas by the end of the year:
Arizona
-- Gilbert
-- Mesa
-- Tucson (2nd location)
California
-- Atwater Village
-- Escondido
-- Hawthorne
-- Merced
-- Milpitas
-- Modesto
-- Rancho Cordova
-- San Francisco
-- Visalia
-- Yuba City
Delaware
-- Newark
Maryland
-- Baltimore
-- Clarksburg
Massachusetts
-- Springfield
Nevada
-- North Las Vegas
New York
-- Long Island (2nd location)
-- Orange County
SolarCity's expansion continues a period of sustained growth. Within the
last six months, SolarCity also opened its first operations center in Nevada
and began offering solar services in the state, its first operations center
in Delaware, a second and third location in Massachusetts, a third location
in Maryland, and new operations centers in Kona, Hawaii and on Long Island,
N.Y. The company now employs more than 7,000 full-time workers in the U.S.
Homeowners and businesses interested in SolarCity's services can contact the
company directly at 1-888-SOL-CITY (1-888-765-2489) for a free,
no-obligation solar consultation or visit SolarCity online at
www.solarcity.com/request. Candidates interested in available employment
opportunities can apply online at www.solarcity.com/jobs.
About SolarCity
SolarCity(R) (Nasdaq:SCTY) provides clean energy. The company has disrupted
the century-old energy industry by providing renewable electricity directly
to homeowners, businesses and government organizations for less than they
spend on utility bills. SolarCity gives customers control of their energy
costs to protect them from rising rates. The company makes solar energy easy
by taking care of everything from design and permitting to monitoring and
maintenance.
SolarCity currently serves 15 states and signs up a new customer every
minute of the workday. Visit the company online at www.solarcity.com and
follow the company on Facebook & Twitter.
Featured Product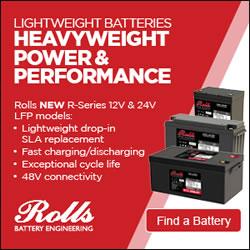 Designed for true drop-in replacement, Rolls new R-Series 12V & 24V LFP lithium models offer a maintenance-free lightweight flooded and SLA alternative in four popular BCI case sizes with fast charge/discharge capability. Rolls custom built-in BMS provides all necessary operating protections for safe operation and seamless integration for deep cycle replacement in 12V, 24V or 48V systems.