China plans to have five million Electric Vehicles and Plug-in Hybrid Electric Vehicles on the road by 2020 ----'Road charging infrastructure will be improved mostly by investment in level-3 charging infrastructure,' says analyst
LONDON, UK (GlobalData), 10 September 2014 - Sowmyavadhana Srinivasan, GlobalData's Analyst covering Power, says:

"China has proposed investing approximately $16 billion into its Electric Vehicle (EV) charging infrastructure, with the aim of stimulating substantial growth in EV sales as the country seeks to cut its carbon emissions.
"China has over 70,000 EVs on the road already, and plans to increase this number to five million EVs and Plug-in Hybrid Electric Vehicles by 2020. Strategic planning and the country-wide installation of Direct Current and level-2 chargers will play a key role in achieving this target, while also encouraging motorists to buy battery EVs in addition to hybrids.
"Road charging infrastructure will be improved mostly by investment in level-3 charging infrastructure. Coupled with BYD Daimler New Technology Company and ABB's affordable residential level-3 charger, which was released in China earlier this year for Denza EV, this will help boost the installation of these chargers in the country.
"China is responsible for more greenhouse gas emissions than any other country. It is likely to start limiting its carbon emissions in 2016, as part of its 13th five-year plan. China already has a cap on emission intensity and depends on imports to fulfill its energy requirements.
"The government has also been investing heavily in green energy in an attempt to curtail emissions and limit China's dependency on fossil fuels, which has been increasing annually. As part of this effort, the country has been encouraging the adoption of EVs to reduce emissions from the transport sector since 2001.
"However, China's EV market is still in a nascent stage and EVs account for a negligible share of vehicles on the road. Developed countries, such as the Netherlands, Estonia and many other EU countries, have so far achieved a higher EV penetration than China."
Featured Product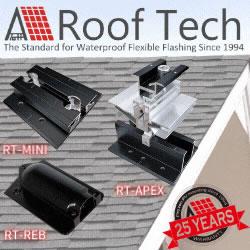 Now Roof Tech brings you the most innovative, watertight mounting systems ever developed for solar photovoltaic systems. Designed and manufactured exclusively for us by Japan's longtime leader in roofing technologies, Roof Tech products are 100% code-compliant and offer fast, simple installation and huge savings on shipping costs due to their compact, rail-less design. Learn more about our full line of versatile PV mounting solutions now available for residential installations. The next generation in rooftop solar mounting solutions."