Clenergy were very pleased recently to receive thank you letters from the children at Natusara and Namamanuca Primary Schools in Fiji.
We were very pleased recently to receive thank you letters from the children at Natusara and Namamanuca Primary Schools in Fiji.

Rob Edwards from It's Time Foundation has worked tirelessly to deliver his commitment to this program and we are very proud to be involved.
Clenergy joined the It's Time Foundation's solar project for schools in the Pacific islands in 2010, donating Clenergy roof and ground mount systems.
With the help of Clenergy and other solar companies that support the It's Time Foundation, schools in the Pacific Islands are replacing inefficient, expensive, unreliable and polluting diesel generators with clean Solar systems.
Recently the Foundation installed a 2.3kW solar system at the Natusara Primary School and a 4.6kW solar system at the Namamanuca Primary School; both systems are equipped with battery storage to extend their usefulness well after the sun has gone down.
At the Natusara Primary School the diesel fuel usage dropped by around 80 percent, while at the Namamanuca Primary School the Solar system supplies 90% of their daily power requirements. The schools now have a reliable and eco-friendly power supply, the limited available funds are now used for educational purposes rather than paying for diesel. The systems together save almost 8,000 kilograms of carbon dioxide emissions annually by supplementing the diesel generators with clean economical renewable power.
"We're proud that Clenergy through our support of the It's Time Foundation can contribute to the future education of the children of Fiji and the planet in which we all live," said Mario Guzzi, Clenergy's VP of International Sales and Marketing.
Clenergy and its people maintain a commitment to the community, our partners and our planet. Since the founding of the company, Clenergy has never wavered from its support of clean renewable energy. We will strive to ensure renewable energy remains affordable and accessible to everyone.
About Clenergy
Clenergy (www.clenergy.com) is a technology company in the solar PV industry, with its headquarters in Xiamen, China, and branch offices in Australia, Japan, the United Kingdom, and the United States, and a regional office in Malaysia. Clenergy designs, manufactures and distributes a range of renewable energy products, including solar PV mounting products, inverters and power electronic equipment, which address the needs of residential, commercial and utility scale customers.
Clenergy is an ISO 9001 accredited company and all of its products comply with international standards. It is through its focus on innovation, quality and service that Clenergy has achieved rapid growth and built a strong international reputation. Clenergy's products and solutions are marketed and distributed through a worldwide network of strategic partners and distributors. For more information, please visit www.clenergy.com
Featured Product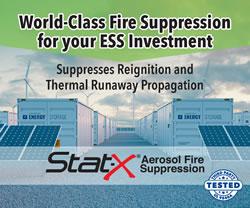 Stat-X® condensed aerosol fire suppression is a solution for energy storage systems (ESS) and battery energy storage systems (BESS) applications. Our Stat-X condensed aerosol fire extinguishing product was tested for efficacy in suppressing li-ion battery fires. It was found that the product successfully extinguished single and double cell battery fires. This testing was conducted in parallel with a large battery fire testing program on behalf of a large energy storage company.