The Newest Geothermal Frontier
Portland, Ore. (September 12, 2014)–From Oregon to Rwanda, the 2014 GEA Geothermal Energy Expo will take geothermal leaders around the world in geothermal development. The Expo, co-held with the GRC Annual Meeting, is the premier gathering to learn about the latest developments in geothermal energy. In 2013, the GEA Expo and GRC Annual Meeting hosted representatives from more than 37 countries. The event will run Sept. 28 to Oct. 1 in Portland, Oregon and host technical, policy and market conference sessions, educational seminars, tours of local geothermal and renewable energy projects and numerous networking opportunities.

Each year, the Expo serves as a world-class gathering of geothermal companies, academics, financiers, policy leaders and other individuals to learn about the latest developments in geothermal energy. The Expo floor features a unique opportunity for leaders in the business to showcase their projects, equipment, services and state-of-the-art technology to the geothermal community.
Host state Oregon's current geothermal capacity and its capability for growth are quite impressive:
· There is about 33 MW of geothermal power on-line in Oregon, which produced 165 GWh in 2013.
· The latest industry survey identified 19 projects under development in Oregon with estimated subsurface resources of 340 MW that developers expect could provide 60 MW of additional power within the next few years if appropriate contracts are secured.
· The U.S. Geological Survey estimates that there are an additional 500 MW of discovered geothermal power resources in Oregon and 1,800 MW of undiscovered resources.
Meanwhile, the international geothermal power market is thriving, with a sustained growth rate of 4 percent to 5 percent and almost 700 projects currently under development in 76 countries. This year, attendees will hail from Canada, Djibouti, Ethiopia, France, Germany, Iceland, Indonesia, Italy, Japan, Kenya, New Zealand, Portugal, Rwanda, Tanzania, Turkey and Uganda, as well as the United States. Together, they represent 17 countries and five continents.
East Africa will be well represented in the Expo. The region is experiencing a significant geothermal boom, and industry experts find that government and industry officials are interested in working with US companies. To help facilitate these connections, the Expo will feature an expanded Power Africa Geothermal Pavilion with representatives present from the leading countries in the region: Djibouti, Kenya, Tanzania, Ethiopia, Rwanda and Uganda. In addition, key personnel working with the East African Geothermal Partnership, a collaborative partnership between USAID and GEA, will be on hand to help companies engage in this exciting growth area.
"Between the Power Africa Pavilion and all the natural discussion of Oregon that will be occurring, we expect a nice range of geothermal opportunity to be represented at this year's Expo," said GEA Executive Director Karl Gawell.
Geothermal energy is a firm yet flexible renewable energy source that can bring the reliability of 24/7 baseload power or complement other energy technologies by firming up more intermittent power generation. It can also provide distributed power generation from small co-production projects, with one of the smallest environmental footprints of any technology. Geothermal has the potential to help meet many U.S. states' Renewable Portfolio Standard (RPS) goals as an alternative to fossil fuels. Recent breakthroughs in Enhanced Geothermal System (EGS) technology for exploiting geothermal resources around the world raise bright prospects for the industry.
For more information about the GEA Expo, please visit www.geothermalenergy2014.org. Student registration is complimentary with valid student ID. Join the conversation on Twitter by following GEA at @geoenergist and #GEAExpo2014. For GEA Expo exhibitor or sponsorship opportunities, please contact Kathy Kent Schott, 202 454 5263 or kathy@geo-energy.org. To request press credentials, please contact Shawna McGregor, The Rosen Group, 917 971 7852 or shawna@rosengrouppr.com.
About the Geothermal Energy Association:
The Geothermal Energy Association (GEA) is a trade association comprised of U.S. companies who support the expanded use of geothermal energy and are developing geothermal Resources worldwide for electrical power generation and direct-heat uses. GEA advocates for public policies that will promote the development and utilization of geothermal Resources, provides a forum for the industry to discuss issues and problems, encourages research and development to improve geothermal technologies, presents industry views to governmental organizations, provides assistance for the export of geothermal goods and services, compiles statistical data about the geothermal industry, and conducts education and outreach projects. For more information, please visit www.geo-energy.org. Check out GEA's YouTube Channel. Follow GEA on Twitter. Become a fan on Facebook.
Featured Product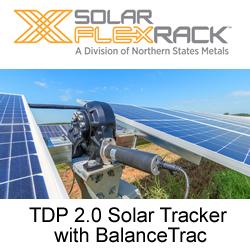 Solar FlexRack's latest solar tracker technology bundles an advanced tracker design with a full team of seasoned engineering and installation experts at your service. The next-generation solar tracker delivers a package of features that both enable increased energy yields for commercial and utility-scale solar installations, and significantly reduce project risks. That translates to smart installation cost-savings across your project budget.