Energy storage system to deliver cost-effective and reliable solutions for the power grid. NEC and and Ricerca Sistema Energetico, a electro-energy research company tomorrow will release details of a new study into the new ancillary services business model for Energy Storage Systems.
Trieste, London, September 17, 2014 - NEC Italia SpA, the smart energy competence center for the EMEA market and Ricerca Sistema Energetico SpA (RSE), a company with a solid national and international track record of electro-energy research, tomorrow will release details of a new study into the new ancillary service business models that will be enabled by the Non-Predictable Renewable Energy Sources (NPRES), coupled with Energy Storage Systems (ESS).

With recent policy changes across Europe to reduce feed-in tariffs, there is an urgent need to make more efficient use of NPRES in the electricity market by storing and monetising excess energy. Moreover, as more intermittent solar and wind power sources are integrated into transmission and distribution networks, energy storage and dispatching services will be required to ensure the reliability and safety of the electrical system in light of the increased volatility in loads and generation.
Using the algorithms that RSE has developed to efficiently manage renewable energy parks and energy storage systems, NEC has defined the business case for a new type of ancillary services provider. NEC is highlighting how renewable power plants will be able to provide a variety of ancillary services – such as primary frequency regulation, negative balancing power, local congestion relief and local voltage regulation – to the Distribution System and Transmission System Operators (TSO/DSO).
NEC and RSE will publish a paper entitled, "Enabling a distributed generation and energy storage system to provide ancillary services" at the AEIT (the Italian Federation of Electrical Engineering, Electronics, Automation, Computer Science and Telecommunications) annual conference in Trieste, Italy on 18-19 September 2014 outlining the new business cases.
"In an era where more renewable energy is being integrated into the grid, it's crucial that we anticipate the new solutions that will be required to help to create a cost-effective electricity market," said Luca Pellizzari, General Manager at NEC Smart Energy Solution Division. "As a global leader in the li-ion energy storage system technology, NEC is paving the way for new business opportunities in the crucial European market which is becoming increasingly complex and competitive."
"RSE considers the transfer of its knowledge to industry a top priority," said Massimo Gallanti, Energy System Director at RSE. "Thanks to our participation in many different projects financed by the Italian Economic Development Ministry we have a lot of expertise in the innovative application of energy storage systems in the power grid and this is certainly a competitive advantage for our partners like NEC."
In the future, NEC predicts distributed demand response assets will provide ancillary services at a cost and quality competitive with traditional gas and coal generators, which today are the primary ancillary service providers. The dispatching services provided by distributed generation is a cornerstone of a smart grid, where the TSO/DSO is able to manage any type of traditional and renewable generator, ESS and variable loads, which in turn automatically react to the changes of critical parameters, such as frequency and voltage, in the grid. NEC and RSE's business cases demonstrate how ancillary services relating to the safety and reliability of the power grid could provide additional revenue streams to renewable energy plants in future regulatory frameworks.
With its subsidiary company NEC Energy Solutions Inc., NEC is the world's leading supplier of lithium-ion grid energy storage systems. By integrating its market leading ICT technologies and its cutting edge energy solutions, NEC will further drive its smart energy business to develop advanced infrastructure solutions that help to create a better society.
Featured Product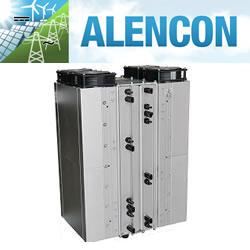 Alencon Systems is the premier manufacturer of high power, high voltage DC:DC optimizers for alternative energy applications including solar, battery energy storage, Microgrids, Fuel Cells and Electric Vehicle charging. Alencon's DC:DC converter offerings include the SPOT, BOSS and CUBE series DC:DC converters. The SPOT is a modular, uni-directional DC:DC solution ideal for solar applications. The BOSS is a modular, bi-directional unit for use with battery energy storage. The CUBE is a monolithic DC:DC converter which is available in both uni-directional and bi-directional modalities. Pictured above, is the Alencon SPOT.