U.S. Battery's new video explains the effects renewable energy applications have on flooded lead-acid batteries, and how to extend battery life in these applications.
U.S. Battery Manufacturing released a new video that focuses on the features of the company's RE-Series battery line, used in renewable energy applications. The video explains how features such as Defender™ moss shields, fiberglass cell backing, and Outside Battery Plate™ technology work to mitigate the effects of cell-plate sulfation, while increasing battery life and performance.

U.S. Battery RE-Series deep-cycle batteries are manufactured in the U.S.A. and are available in 6-volt and 2-volt configurations. Featuring the company's exclusive XC2™ formulation RE-Series batteries also provide the highest peak capacity and longest cycle life than any other battery on the market. Coupled with a rugged polypropylene case, heavy-duty lifting straps, and rugged connector lugs, more corporations and homes rely on U.S. Battery products worldwide, to power their businesses and homes.
Visit http://www.usbattery.com to watch the video, or watch it on the company's Facebook page and Blog. For additional information on U.S. Battery products, contact U.S. Battery Manufacturing, 1675 Sampson Ave. Corona, CA 92879. (800) 695-0945. Visit http://www.usbattery.com.
Featured Product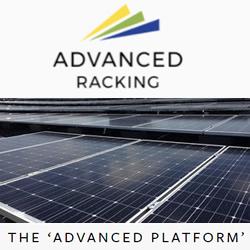 The 'Advanced Platform' simplifies the installation process by using universal mounting hardware that works perfectly across all roof types. Smart roof connection kits then connect to the specific roof's surface. The Advanced Platform is versatile: Our common design can be your single solution for all roof types.