Project development team focused on system reliability by reducing critical failure points
System reliability is always paramount and Bakersfield 111 Solar Park presents industry-leading tracker manufacturer, Array Technologies, Inc. (ATI) and ET Solar's turn-key solar financial solutions provider, ET Capital, with an interesting case in point. Not only does the 1.8 MW DC facility need to operate properly in the extreme temperatures of the desert-like summers typical of the San Joaquin Valley, but also withstand winds in excess of 105 MPH. Given these conditions, not just any tracking or racking system would do.

The DuraTrack HZ single-axis solar tracker was chosen to meet the reliability requirements for Bakersfield 111 Solar Park. The advanced tracking system is designed to withstand site wind gusts, in this case of up to 110 MPH, without the need to stow. In addition, the DuraTrack HZ's closed, rotating gear drive system can withstand prolonged exposure to temperatures in excess of 124° F. Another key feature is the DuraTrack HZ's ability to minimize failure points by linking up multiple rows of modules with a flexible driveline. Since each motor drives approximately 17 rows of 60 modules each, the Bakersfield 111 Solar Park employs only 6 motor units to track more than 6,000 ET Solar 300W photovoltaic modules.
With outstanding environmental adaptability, cost-effectiveness and superior performance, ET Solar's photovoltaic modules satisfy the demand of customers, and bring more returns and benefits for them. More importantly, ET Capital's tailor-made financial solutions greatly minimize the potential financing risks of Bakersfield 111 Solar Park, and ensure the implementation of project progress as planned.
"Working alongside ET Capital has been a positive and eye-opening experience," explained ATI Founder & CEO, Ron Corio. "Their impressive portfolio and skilled team have been integral to the formation and development of this project."
"ATI's differentiated technology and excellent tracking system will be valued by our customers," said Dennis She, President and CEO of ET Solar, "The collaboration with ATI enables us to deliver safe and green solar electricity on an even broader basis."
Once completed, Bakersfield 111 Solar Park will feed into Pacific Gas & Electric's electricity grid.
About Array Technologies:
Array Technologies is the worldwide market leader in tracking solutions for utility, commercial and residential solar electric systems, with more than 2 gigawatts shipped and installed across the globe. Array's innovation and leadership in ground mount fixed-rack and solar tracker design has established the industry standard for cost-effective, robust, reliable and easy to install PV solutions with over two decades of field experience. Headquartered in Albuquerque, NM, Array Technologies' ground mount solutions are engineered and manufactured in the USA. For more information about Array Technologies, Inc., please visit arraytechinc.com, connect with us on LinkedIn, follow us on G+ and subscribe to our YouTube channel.
About ET Solar and ET Capital:
ET Solar is a leading smart energy solutions provider. With innovative solar technologies and tailored finance solutions, ET Solar provides professional one-stop solutions throughout the entire solar power plant lifecycle that includes development, financing, engineering, procurement, construction, and operations and maintenance. ET Capital, a subsidiary of ET Solar, is a turn-key solar financing solutions provider that operates in the global market. To learn more about ET Solar and ET Capital, please visit http://www.etsolar.com and http://www.etcapital.us.
Business Contact:
ET Solar
Kevin White
Office: 650-387-7261
Kevin.White@etsolar.us
Media Contact:
ET Solar
Eric Zhang
86 25 8689 8098, ext.9011/86 136 4518 8386
eric.zhang@etsolar.com / pr@etsolar.com
Array Technologies, Inc.
Denise Hugo
Office: 505-881-7567
info@arraytechinc.com
Featured Product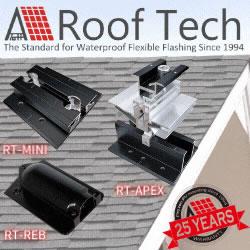 Now Roof Tech brings you the most innovative, watertight mounting systems ever developed for solar photovoltaic systems. Designed and manufactured exclusively for us by Japan's longtime leader in roofing technologies, Roof Tech products are 100% code-compliant and offer fast, simple installation and huge savings on shipping costs due to their compact, rail-less design. Learn more about our full line of versatile PV mounting solutions now available for residential installations. The next generation in rooftop solar mounting solutions."